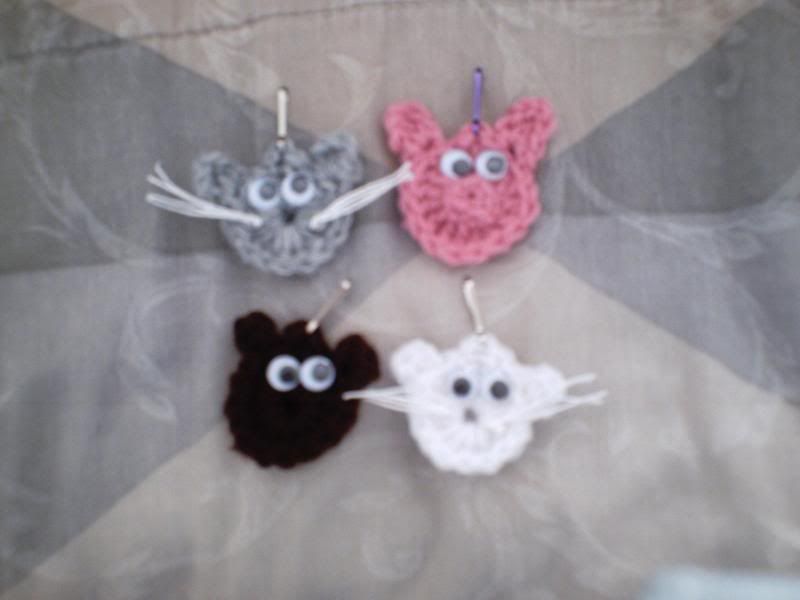 And, an updated photo of the keychain critters. With the mouse (bottom right, if you couldn't tell.) ;) I have been sending these out as RAOKs lately. Well three, to be exact.... And technically, one isn't sent yet. But it's ready to go.
And here is the peppermint bark I made last night. It's super easy. Just like making the chocolate hearts and roses I have made in the past. Just crush the candy first. I bought candy canes for 88c. And the almond bark was $1.78, I think. I saw a tin of peppermint bark for $6.99 at WalMart, so the price is way better. (I haven't tried the other bark, so I can't tell you taste-wise, which is better.)
Here it is, all broke up into 'bark'. I am hiding it and divying it out a little bit at a time, or it will all be gone in one day.
I also made some in litle molds. I have no idea where I got these molds, or what it was from. I want to say from an Oreo cookie container, but some of the molds are a little bit smaller than the others. So I don't know. They look like eggs to me, except with a red middle. :P Oh, I forgot to post the link to the website where I got the recipe!:
Peppermint Bark
I get a lot of recipes there. Or the cooks dot com one...
Here is a close-up of one, not that it makes that much of a difference. I hate how my pictures look all blurry. I have tried everything. I think my camera is just a piece of junk. What do I expect for only $100 eh? Oh well....... Have a Nice Day everyone!