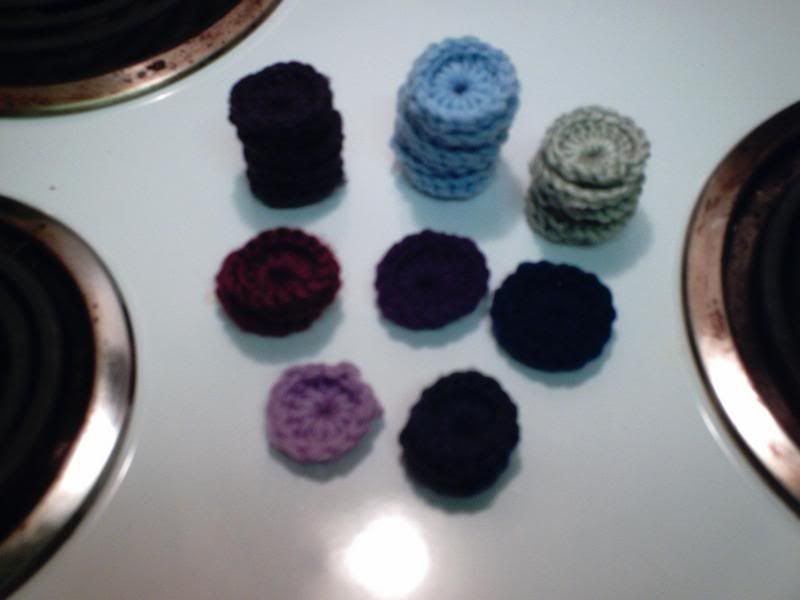 But just so you know I'm still here.... I thought I'd show one thing I've been working on. Yo-yos. I have never made yo-yos before. They are addictive little buggers. I tried taking the picture on my stove, for best lighting. And it still didn't turn out... But... so far I have 27 yo-yos, I think. My kids keep asking me 'Why is it called a yo-yo? It doesn't look like a yo-yo.' :P I tried telling them that there are fabric yo-yos, too that are little circles; and I didn't know why they were called yo-yos, but they have been around for a long time. These yo-yos are for a yo-yo drive at Crafting for a Cause. They will be made into lapghans and maybe afghans.
Like my new sugar bowl? (Insert rolling eyes smiley here.) We had a sugar bowl. (Kind of.) It was a big glass rectangular container w/ a lid. Well. I broke it. Yes, me. I was trying to get the last clump of sugar stuck to the bowl out, to put in my husbands' coffee one night. And the spoon hit the side of the 'bowl' just right, and it broke.... sigh. So later on I went and got some more sugar (hubby can't have his coffee without sugar), and then the next morning I found our 'new sugar bowl' on the counter. A Welch's jelly jar. Grape. :P So, I have been on the look out for something better. (This could be dangerous.... once I start looking for a sugar bowl, there will probably be a creamer that has to go with it.... and a cookie jar... and who knows what else....) I will have to wait for a while anyway.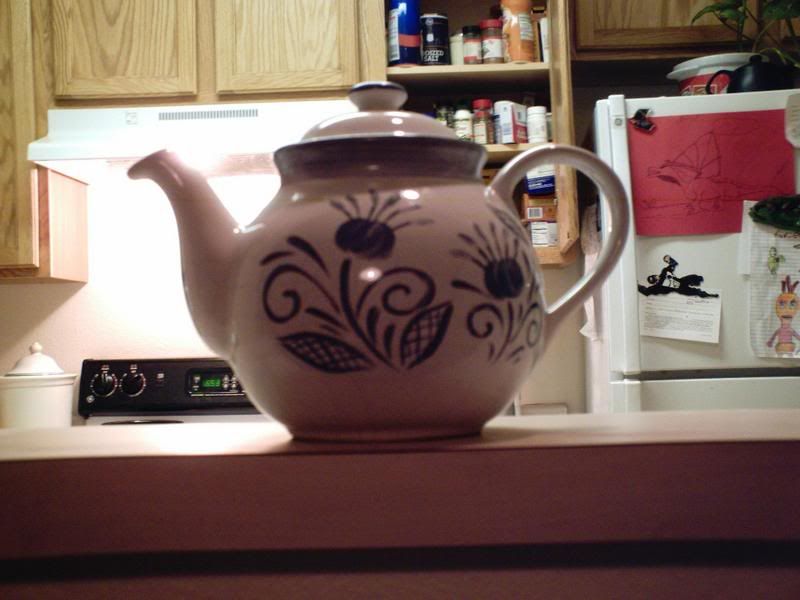 And, since I am in the Tea Cozy Swap again this year, I thought I would post my tea pot. I don't know why. Just for something to do, I guess. The tea pot I had last year for the tea cozy swap (I bought it during the swap, too) has since broke. But, this one is still around. (Probably because I never make this much tea, so I never use it...) I do have another little one that is about a one cupper that I use all the time. It's not my favorite, but it does the job. I saw some cute little tea pots in the Dollar Store the other day. I may have to go see if I can find any I like. Well have a nice Monday everyone!