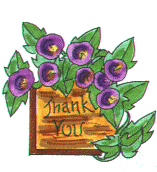 I don't believe it.... :P Well I have been gone for a couple weeks. And then my Mom was here for a week. So, I have been busy. I haven't even crocheted much in the past month at all~~ That's how busy I have been! :0 Well, I got a very nice package while I was gone. I hardly ever get anything in the mail, so I was surprised when my husband said, 'You got a package'. I asked him who it was from. He said he didn't know (it must have been downstairs, he must have been upstairs... :P). He said 'Do you want me to open it?' :0!!!! 'No,' I said, 'I want to be surprised'.... :D Well I was so surprised when I finally got home and did open it!! I don't know if the person who sent it to me wants her name mentioned here or not, but I
can
show you what she sent me!! I love it!!: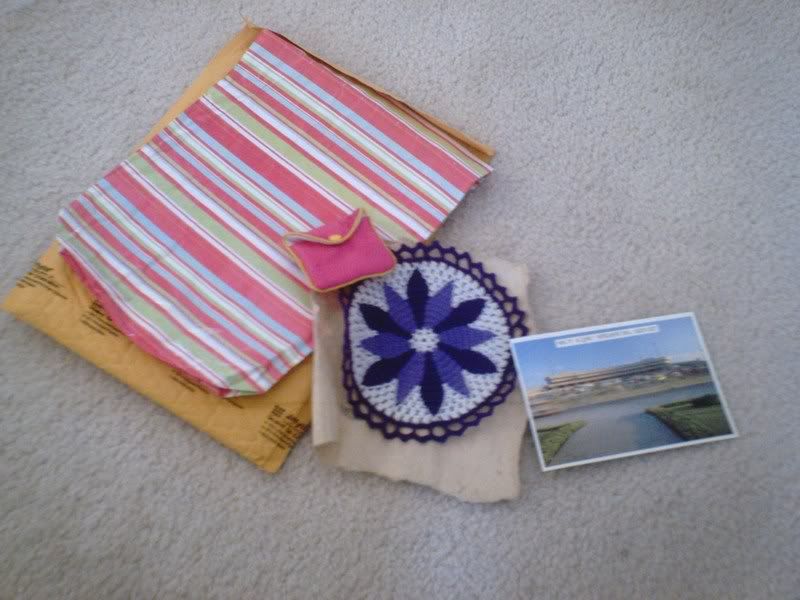 A pretty pink envelope inside the mailing envelope. Inside it were a bunch of 'yummy goodies' (none technically edible, but... :P A rolled up papyrus (?) paper, tied with twine (cool!!) and inside it was a beautiful doily (her own pattern, too!) she made~~ I love it and will have to find a special place for this one. A postcard of a local airport (cool-- I like postcards!!) And a pink satiny pouch. Inside it was a tiny bottle of perfume (photo below-- it's been so long since I posted I must have forgotten how to do the photos....) :P
She also sent me the coolest t-shirt (I have already worn it twice, today being the second day).... Here's a picture of me wearing it (see how good it fits!) I meant to have my head not in the picture (not a good hair day) but oh well.... (The sun was blinding me, too).
It says, 'Old School', which is totally me. I like to do things the 'old-fashioned' way. I have to ask my kids how to do everything. (I am 'getting there', though...)
And here is the lovely little bottle of perfume. I love the scent, I don't wear perfume much, but when I do, I love this scent!!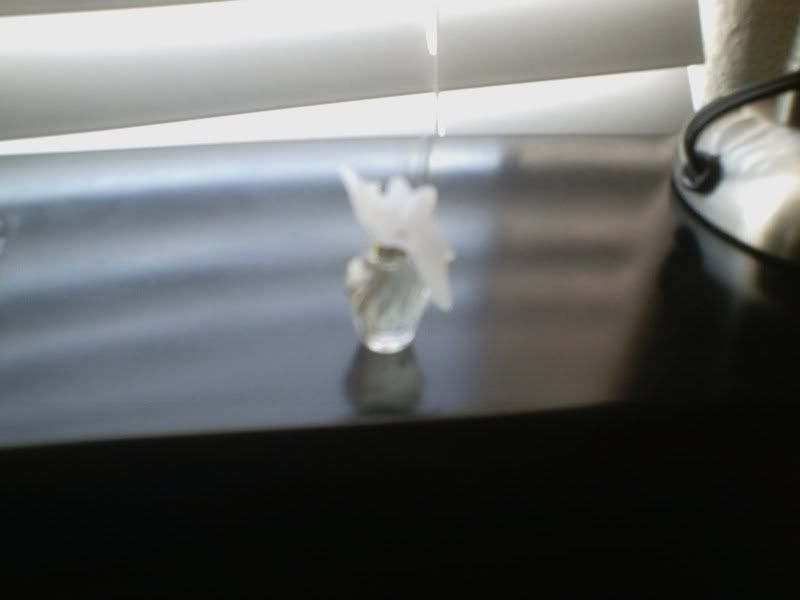 And, a cell phone purse she made (also her own pattern):
I love this one, the color is perfect for me!! I wanted to make one I could put on the OUTSIDE of my purse, because I can never find my phone buried inside this tiny purse all the time. (Not to self: don't buy small purses no matter how cute they are.... the plan to not carry so much stuff in your purse never works....) :P Well I looped the little strap around the purse strap, and then put the phone through it so it could be on the outside, I LOVE it!! Thanks SO much, my friend from far away. I love it all. :)
Here is some crocheting I did before I left for my vacation. Four squares to send to Lesa for a comfortghan for her daughter who is on the liver transplant list. :( She loves Mickey Mouse and I saw some squares that someone else had made with little Mickey heads on them and tried to do some, too: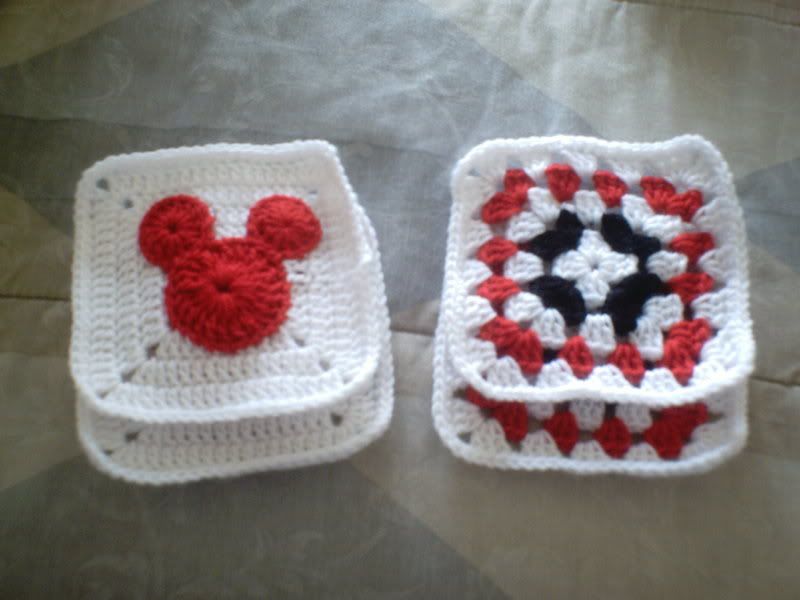 You can see the finished afghan
here
. I posted how I did the Mickey heads
here
. For some reason I kept thinking about pancakes while I made those.... ;P Every time we (me or my husband) makes pancakes we make Mickey Mouse ones for the kids. Fun. :P
My Mom was here for a week. I took her to the airport this morning. Can you say STRESS? :( I have never driven to the airport here myself (it is aninternational airport and bigger than any airport I have ever been to in my LIFE... ) I did go to this airport once, but my husband was driving, so I didn't pay attention; or care. I am surprised I didn't get hit. People should NOT tailgate people in the airport. (Grrrrrr...) Getting into the parking structure was the hard part. Getting around inside was pretty easy, and leaving was super easy. I even got kind of lost and still found my way home. Not bad for a newbie. I am going to miss my Mom, but maybe we will see each other again soon. I don't know how, but... you never know what might happen.
Well that's all for now. Maybe I'll have some more to post soon. I am in a slump, I guess. I have been trying to be good still, and not start anything new. Well I also don't want to finish any of my old projects.... so what am I to do? Bake? :P Well TTYL everyone~ have a nice day. ;)