...or should I say 'my favorite Fo's' of 2007.... I thought I would post some of my favorites that I finished. The shrug I tested for Mimi. :)
Back view. This pattern is available for purchase now,
here
!
The bolero I tested for Mimi. The
bolero pattern
is available for purchase, too.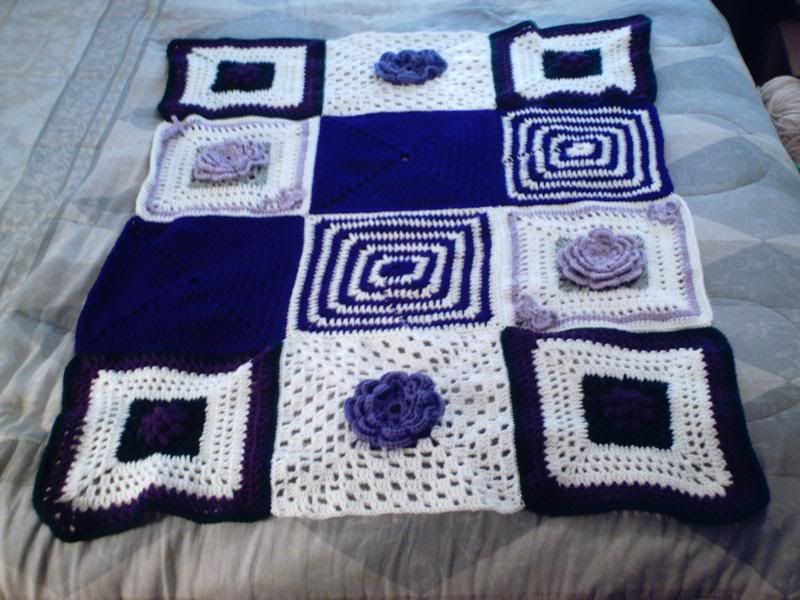 The comfortghan my friend and I made.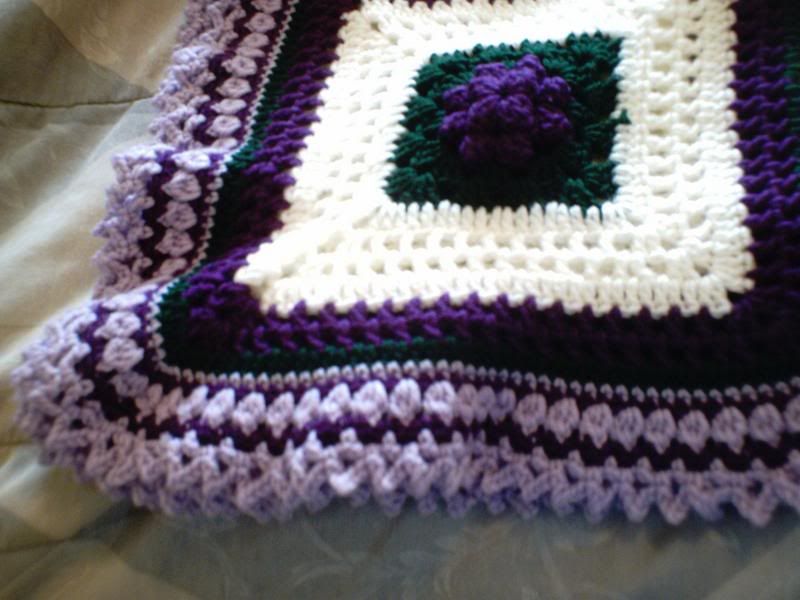 This is the edging.
The mock cable slippers I knitted for the slipper swap. I loved these. I should make some of these for my Mom.
I love this apple tea cozy I tested for Lisa, too. The pattern for this apple tea cozy can be purchased at Lisa's Etsy store,
A Playfun Yarn 2
.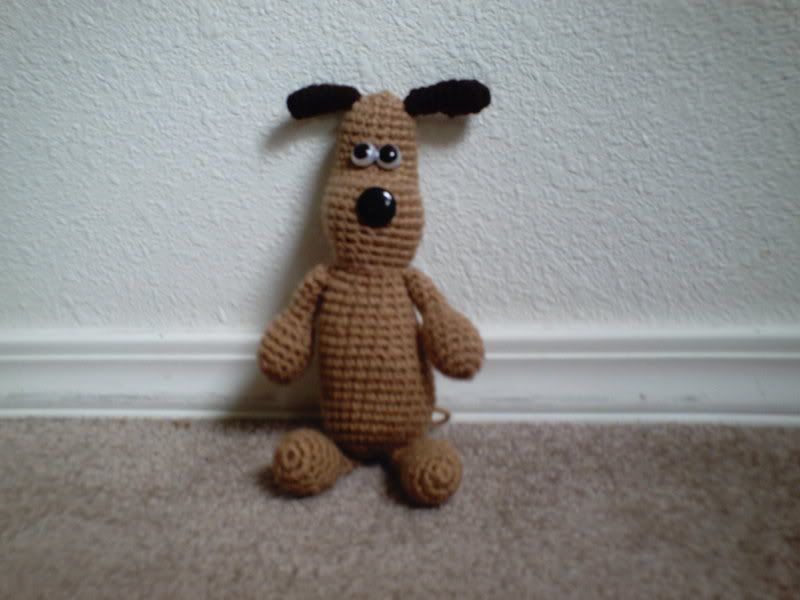 I made a lot of toys this year. One of my favorite things to crochet. I don't know why. But... :P These are some of my favorites. We watched Wallace and Gromit one night. I don't remember if we got the movie at the library or the video rental place... Anyway then I thought 'someone has had to have crocheted a Gromit out there, somewhere.' And went on a quest to find one... Well. As you can see, I found one. :P I love this guy. This is the only one I have made. So far.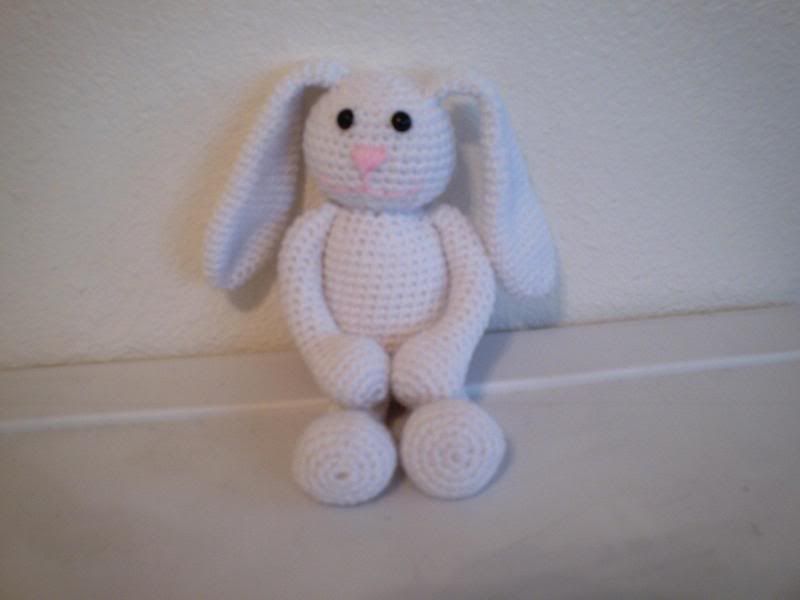 Another thing I am proud of is the 'White bunny with the black tail' that I made for our middle son. It's KristieMN's
'Floppy Friends'
pattern.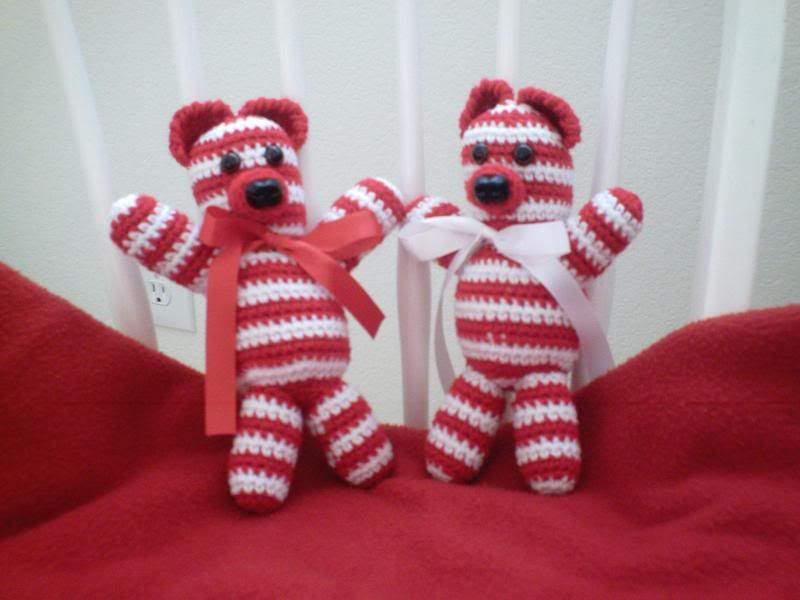 And then, of course, there are my stripey bears I have crocheted this year. I think I have crocheted eight stripey bears this year. Two of them were the peppermint bear; which I love!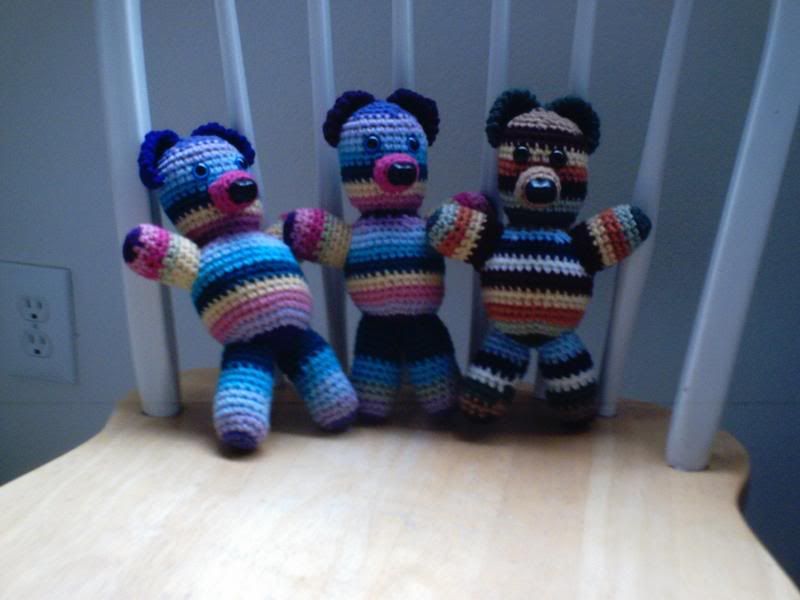 Most of the rest of them were like these guys.
While not a stripey bear, I also crocheted one of these bears.
I think I have come a long way in crocheting toys, from the first stripey bear I ever crocheted!! (On the right, in case you couldn't tell....) :P
Another one of my absolute favorite toys I have made, Cupcakes'
Sheila the Aussie Troll
. I LOVE this one. I sent this to my cousin who was going to Australia; before she left. I think she took her with her. I had to make this for her, since 1. She has had and collected (what used to be called 'wishniks') trolls since I was little. 2. She was going on a trip to Australia. And Cupcake lives there and created this troll... soooo..... it all worked out. :P I should make another one of these for me, too. I made this picture my avatar over at Crochetmania. My husband saw it and said 'Did you make that?' 'Yeaaaah... (you were there when I made it, weren't you?)' :P 'That's cool. You should make another one.'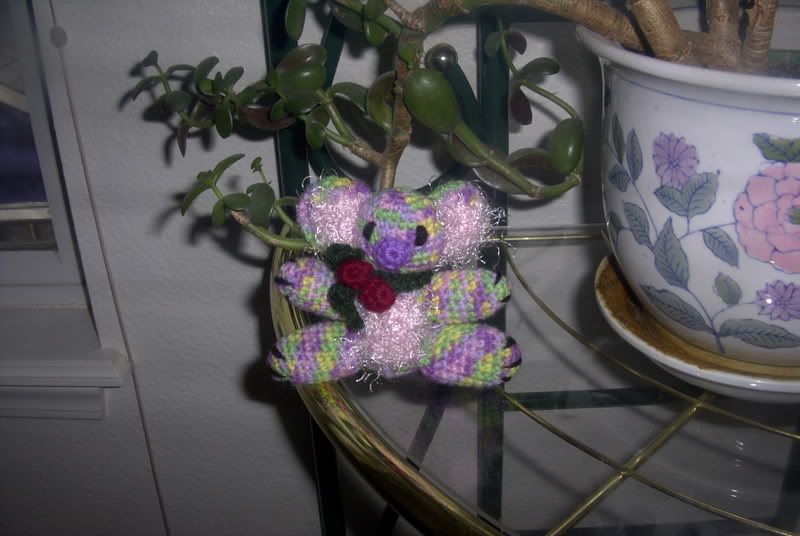 And, another one of Cupcakes' awesome patterns, the
Koala
! I made this one for my Grandma. Long story... but it was the same time when my cousin went to Australia.... I made the Koala for my Grandma, too. (My cousin takes care of my Grandma, so I made them both something 'Australia'...) I love this little Koala.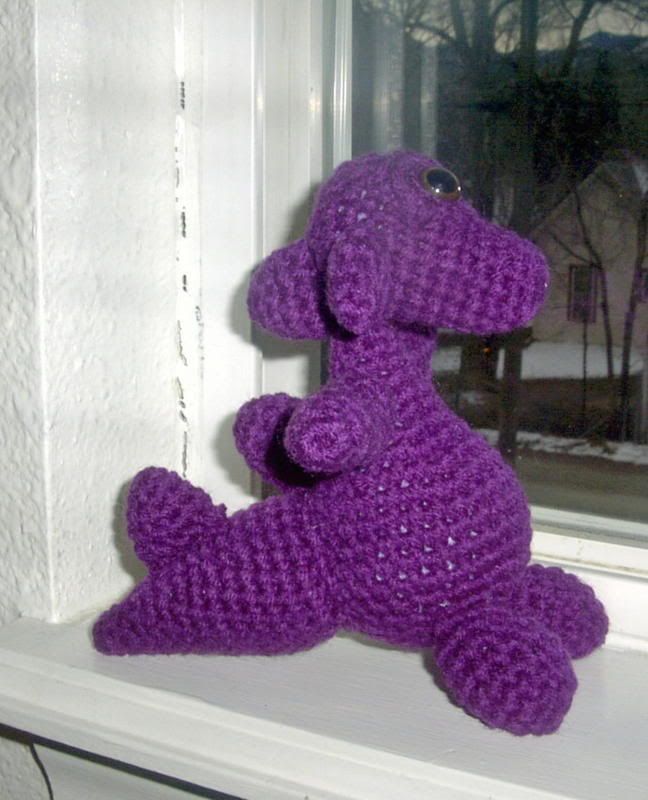 Another toy I made that I loved...
Oldbaglady's snow dragon
. I made this one for my secret pal, Kelle. I still want to make another one of these, too. Our ten year old (I can only say that for ten more days! :O) was drawing dragons for a long time, and I wanted to make him one of these. (It was a long, confusing time for me... lol.... he wanted a 'red dragon with blue wings' or was it a blue dragon with red wings?.... well, he is 'done' drawing these, and I never got around to making one.... I made him the white bunny with the black tail, though. And, I am currently making him one of yarncats turtles.. more about that in another post.)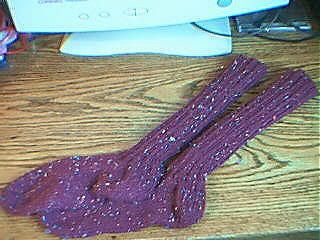 Something else I am proud of myself. For actually finishing. Knitted socks. FOR ME!!! This is one thing I am determined (did I spell that right?) to accomplish in knitting~~ Socks, and to be able to just knit them from memory. Someday. This year, hopefully. I bought two skeins of (expensive!) wool to make a pair with. So it will hopefully be soon...
Something else I have knitted last year. While it is nothing *big*, I just love the four corners dishcloth. And the spiral scrubbies, too.
Here is a yellow set. WOW!? Is that the end? (Whew...) :P
Well this year I hope to make more wearables for myself. And not be afraid to do it. (And hope they turn out nice...) Last night I dug out my L.A. Shrug and worked on it for a little while. I guess it isn't called the 'LA Shrug' I must have made that up. It is called the 'Green Shrug'. LA Shrug sounds more exciting, doesn't it? I only have one sleeve left on it. I don't know why I stopped. Second sleeve syndrome, maybe? lol (Kinda like 'second sock syndrome'?) Well stay tuned for some more wearables progress.... Have a nice Monday everyone!