This was a while ago. Before we moved here, in fact. :P I just found out that the person I sent it to was away and didn't get her mail. It wasn't much of an RAOK, but.... I made her a card. (She likes piggies.) I looked and looked online for a free homemade card 'recipe' of a pig... I found a picture of one that I tried to copy. (Above.) And made up my own nerdy saying 'This Little Piggy~....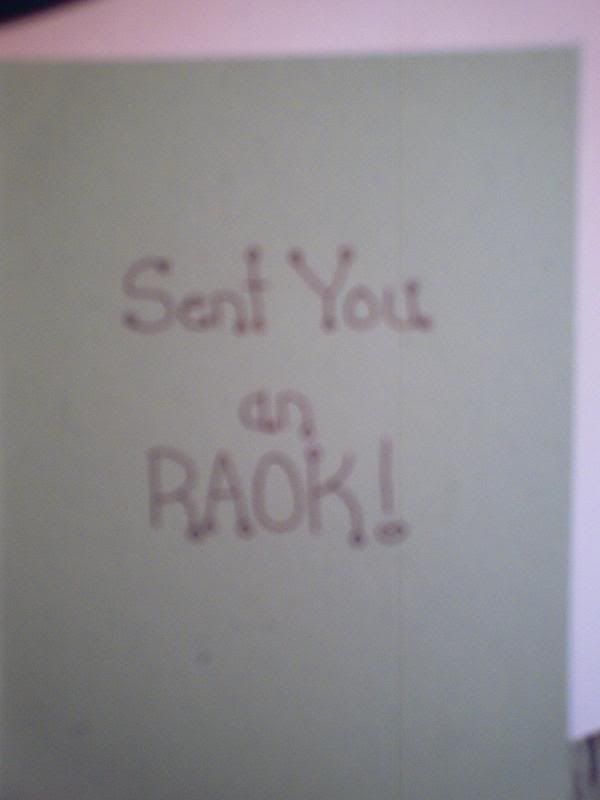 ... Sent you and RAOK!' I'm a dork. I know it though. And I'm okay with it. ;P
I sent her one of my critter keychains (the pig, of course...)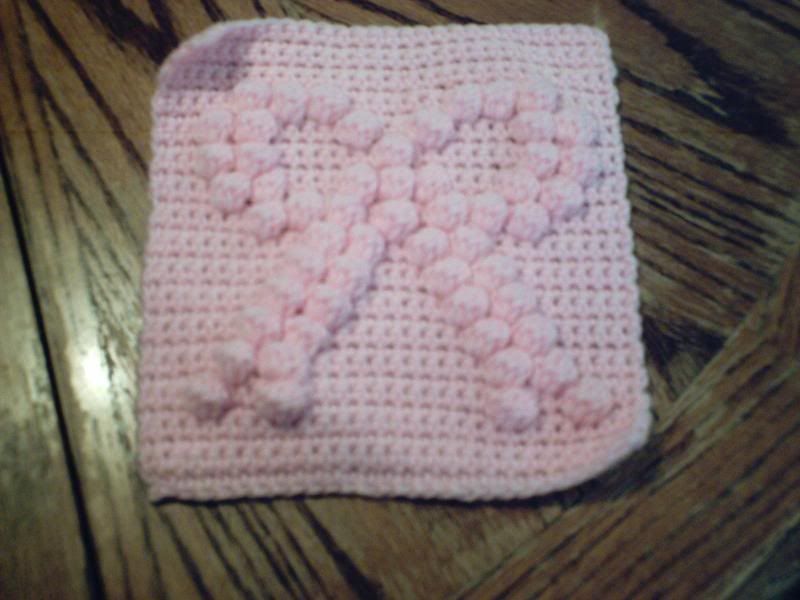 And this square for her Crochetville Friendship Afghan. It also is pink, and a ribbon.... I read on her blog that she is keeping her blog pink for Breast Cancer Awareness month. So I thought it would be perfect!! I sent an RAOK out three days ago, too. One of my peppermint bears, and stripey bears..... It's heading north. (Well I guess most everything is north of here, but....)
I have started (trying) to crochet my own (ami) version of a Love Bug. I am not real good at ami~ and especially making up my own, so we'll see how it goes.... this should be pretty easy though, as it isn't any arms/legs, ears, etc.... just mainly a body and wings. It should be pretty straightforward. I'll keep you posted.
I have also put a new button in my sidebar, as you may have already seen. It is to donate squares for afghans for kids with cancer. :( This really breaks my heart, kids with cancer. So I am going to try and make some squares to donate to her.
Thank you everyone for your well wishes for my insomnia. I hope it will go away eventually. Lisa, I don't know if you saw my comment on your new tea cozies at Crochet Mania.... (I said I was going to make some green tea and use the apple tea cozy I made...) Well I did, and DU-UH!! Green tea has caffeine! I had two cups (big ones) of it. That *might* have contributed to my insomnia last night, too. I have a big problem with drinking too much caffeine/not being able to sleep... Today I am going to venture out and go to Whole Foods and see if I can't find some echinacea tea... (I think it's caffeine free~ if not, I'll get decaf!) Sheesh...