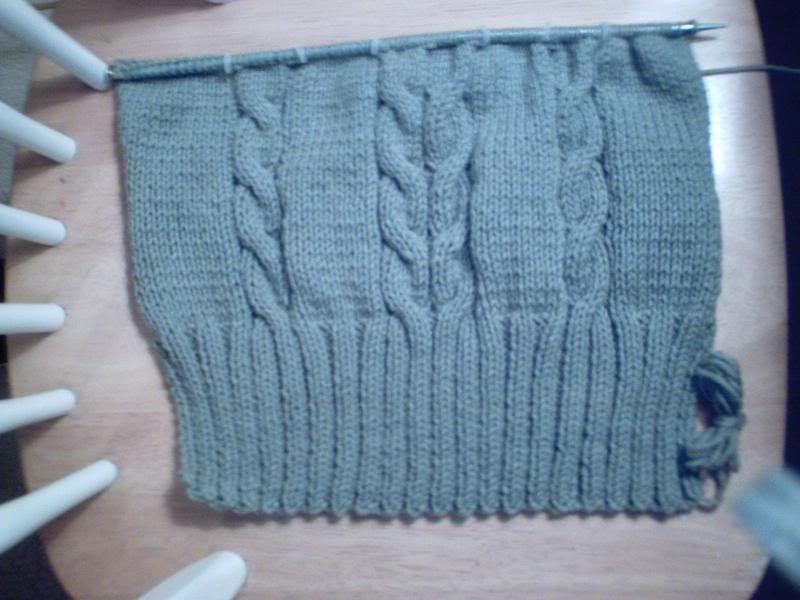 ....on the Central Park Hoodie. The color is a little off. It is Frosty Green. I'm excited with the way it is coming along.
Not much other news. I did get a hair cut. At least six inches cut off. My hair is short again. About chin length. I can flip it up or under. Today it is kind of both. Our water is so hard here that my hair was beginning to feel (and look) like straw. I asked the girl cutting my hair about it; and she said to use a clarifying shampoo once a week, and that should help. (If anyone else has this problem, too...) We are just renting, and no water softener (we aren't going to pay for one when it isn't even our house, you know?)... We drink the water from the fridge; which has a filter. I have never had water harder than this. If you put some in a glass and stuck a fork in it, it would stand up straight. (Not really, but...) At least it isn't all rusty, too. We had water like that in Michigan (every time the power went out.) It still wasn't as hard though. I didn't drink the water there, either; without a Brita water pitcher.
I've ordered two retractable tape measures recently. One is for the swap at Crochet Mania that I am in. I can't find any tape measures anywhere here. :( You'd think they would have
everything
here, but it seems just the opposite. Oh well. I prefer ordering online anyway. Don't have to deal with traffic, long lines, rude people...
Have a great Tuesday everyone. What's left of it. ;)