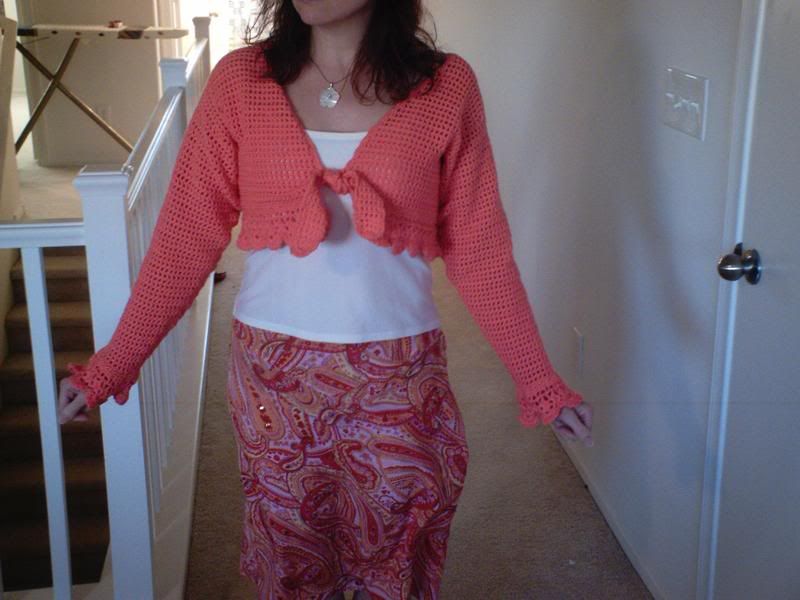 I don't believe it myself, still. This thing has taken me almost two years to finish. (Not that it is the shrugs' fault.... :P It's my fault...) But, it feels good to finish it! I started this back in May of '06; I think. Although now that I think about it, I am almost positive I started it in April. Because this is what I took with me as a project to Michigan. And I got a lot of it done on the way there and on the way back. Anywho.... here it is! (Bad, BAD hair day.... I didn't even do anything with it, I was not feeling good AT all....) :(
I have been working on my Central Park Hoodie. It's ten and a half inches along so far. :D
And..... it didn't last long... Remember how I said 'I want to finish things' before I start anything else? Ha. Well I do recall also saying 'I don't know how long it will last...', too. It didn't last long. :P I have started and finished one of
Yarncat's turtles
. They are SOOOO cute! Especially the pink ones. I have a second one in the works. (And a third, fourth, fifth six... one in mind...) In fact, I bought some pink camo yarn by Red Heart to make one with. And I have started a scarf for the Scarf Challenge at CFAC. Remember my
'Scarf with no name'
? Well I am making a modified version of that, created by Patty (merlot) of Crochetville:
Cluster Scarf
(I like hers better.) I may or may not make a
Tri-Color Cloche
to go with this one. I was going to, but I don't know if I'll have enough of the accent (stripe) color I am using. Unless I go buy some more. Not having a label though it will be hard to match it. We'll see.
What else? I'm working on a square for the Square a Month Swap at Crochetmania. I have to send one out (yikes!) by tomorrow. I keep forgetting.... My brain is not working lately. I have been sick. (Again.) My husband got some kind of flu. Probably from work. (And sleeping for only five hours a night and working ten-twelve hour days doesn't help with the immune system, either....) Fortunately mine is stronger than his, and I only got a mild version of what he has. Thank goodness~~ he is barking like a seal. :( Anyway I thought I'd keep you posted.