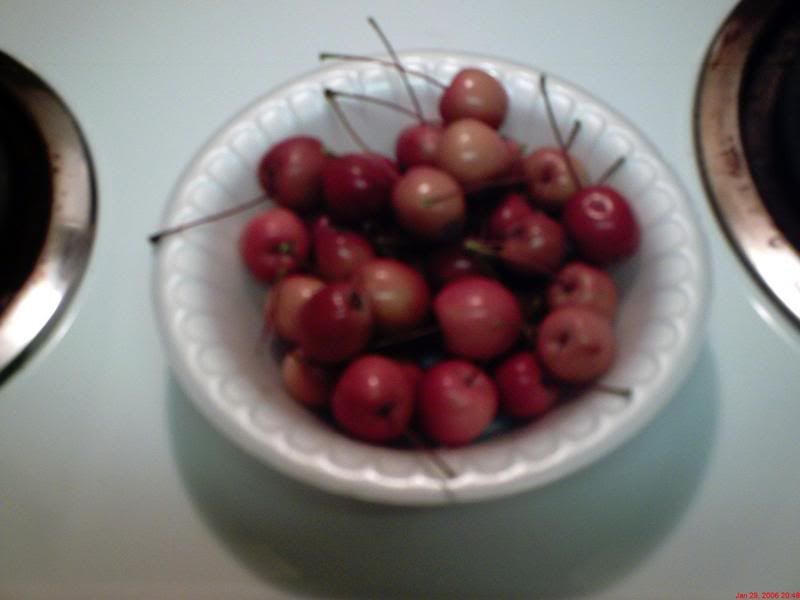 We went to someones' house for dinner last night. The kids were outside and picked some crabapples (they ate some too--yuck.) This is what we brought home. I went online to see what you could make with crabapples. I guess crabapple jelly is about the only thing. I did find a recipe for
crabapple schnapps
, though! (Yuck.) You could also make
spiced crabapples
for a side dish with meat. There was a recipe for
pork medallions with spiced crabapples, by Hormel.

You could use the spiced crabapple recipe to go with the pork medallions... Here's a different one:
Pickled crabapples
I don't know if I would like that one. But someone might.. Anway I will need to pick about three pounds more of crabapples to make some jelly with them. I think I am going to try it. I found a few different recipes. Here's
one from the UK.
I think crabapple jelly is a big thing over there, because almost all the crabapple jelly recipes I found online were from the UK. Did you know that
Martha whipped up some crabapple jelly whilst in prison?
I think we all know which Martha I am talking about... Here's
one from Yankee magazine.
I will post any results. There are a lot of crabapple trees around here, I should be able to find one to pick from without getting into any trouble.... :P