For all you who were wondering what the inside/back looked like (of Dora)... It's a mess. :) Here it is with the ends all woven in as best I could.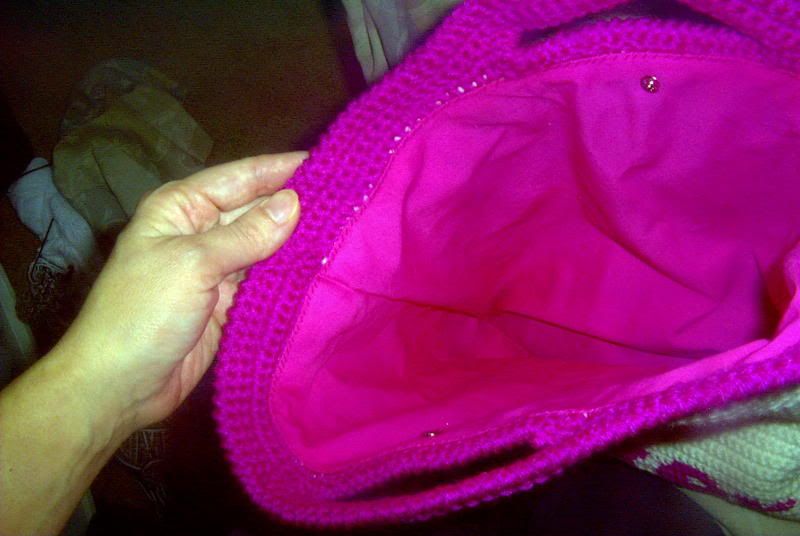 Then, I had to buy, wash, dry, and iron the fabric. That took a while, because I bought the fabric. Then washed and dried it. Went to iron it.... Ugh! There is black stuff all over the iron. So then I brushed it off the fabric. Got out my cleaning gloves, sponge with a scrubby side... tried to scrub off all the black stuff.... Oi... "Honey, we need a new iron...." (I knew he just got a little extra money from his boss... hee hee...) So finally get the new iron (it's great!) and iron the fabric.... Ugh! I know I have hot pink thread in this sewing basket somewhere.... nope... So back to the store I go. Might as well see if they have snaps, too. If I'm going to put a lining in, it might as well be really nice.... Well here it is all sewed in. I am not the best at sewing. But I think it looks pretty nice. (Especially for a three and a half year old!!) :D My husband said 'That's pretty good.' (Insert rolling eyes into the back of the head smiley here....) I just looked at him.... Ahem.... 'I think it's the best thing you've ever done'.... :D Actually not to toot my own horn, but I am pretty impressed with it, too. And thanks to Mary Jo~ I wouldn't have been able to do it at all if she hadn't helped me! :D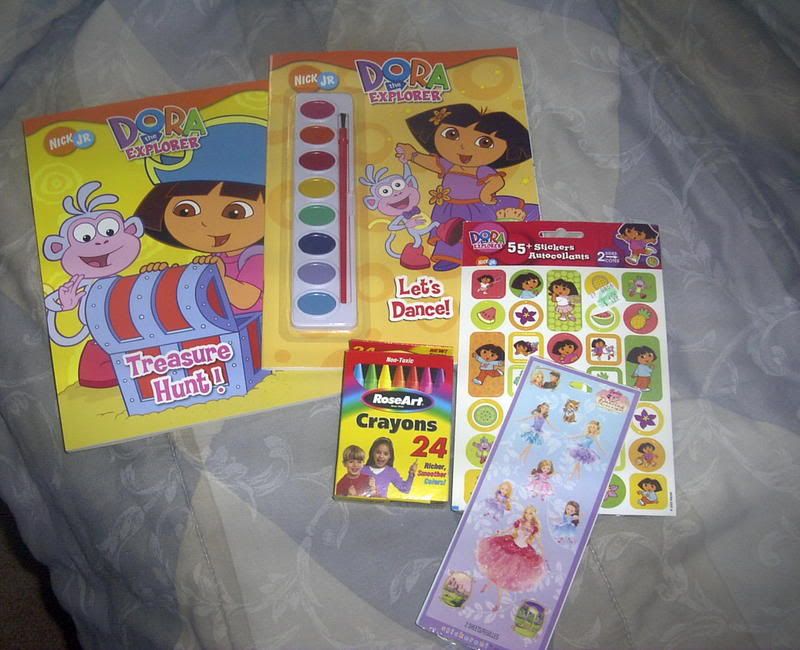 Here's the goodies I am putting inside... Two Dora coloring books (one is paints). Crayons. (I love brand new crayons.) Two sticker sets... I got the Princess ones then later found some Dora ones...
Dora Underoos!! WOO HOO! The only thing is; they are size 2T-3T. I hope they will fit her... :/ Then, the cell phone I posted about a while back, with the cell phone tote... and a ($1) pink bear, and a 'I bet you're proud' card.... I hope this is a big enough 'Big Sister' gift. (I think it is, and more...) I hardly ever buy her anything, so I guess this is good enough. I still have to wrap it all and put it in the box and send it... (Back to the store I go.... no wrapping paper, either...) ;p