Here is a soapsaver I have finished. The February 'thing' to send your elder on Pine Ridge was 'something green', or 'spring'. So, I racked my brain trying to think of something green, spring, and something a person could really use. And, came up with this. I know a lot of people on the PR reservation are really poor (more than us, eve! LOL) and can't afford even basic stuff like soap or toothpaste or food, even. But, not wanting to offend anyone, I thought I would crochet a soapsaver and it wouldn't be as offending as sending a bar of soap. Know what I mean? On the other hand, it might not be offending at all. I would love to get a soapsaver with soap myself. Oh well... The pattern I used is:
Soapsaver or Sachet
by Priscilla Hewitt. I really liked making this.
And look at what
Mimi
sent me!!! A bunch of beautiful thread. And, two skeins of 'Carmencita'? It looks like a baby yarn. I haven't decided yet what I am going to make with the yarn, but I don't think I will have any problem at all deciding what to make with all the threads!! Thank you so much, Mimi! What a wonderful surprise!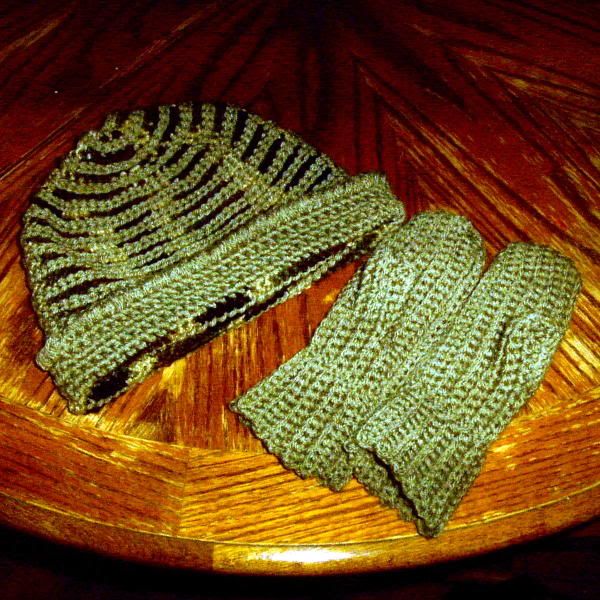 Finally, here is a hat and mitten set I actually finished. This is one of those frustrating things that makes me want to not crochet any more. The hat is tight on my three year olds' head. (Which is good, because I was making it to send a little boy that is in size 18 months so it will probably fit him) But, the mittens are actually big on my three year olds' hands. I used the smallest size hook for this pattern. I think I am going to have to actaually think here and try to make some about an inch shorter (but the same width). What am I going to do with just a pair of mittens now? I'll have to make another hat to match, that will fit a 3-4 year old head. (It won't go with my three year olds' coat, though, which is red and grey..) Oh well. The hat pattern I used is the
Textured Spiral Hat
? And, the mitten pattern I think I used was on that page, as well. Nope, it wasn't, it was
here
. There aren't very many decent free childrens' (crocheted) mitten patterns out there, you know. If you make these mittens, row 8 is wrong. It should be: 'Slip stitch in next 6 single crochet, single crochet in next 12 single crochet' (not, 'next 17 single crochet'). Other than that it is a pretty simple pattern. I finished both mittens yesterday. I will have to make two whole other ones now, but that is something else.... Anyway.