Remember
this sweater
? I must have really been digusted. I haven't worked on it for three years! I have thought about just throwing it away at times. (In one post I said I wanted to take my scissors to it!) But I didn't. It has just been sitting there, collecting dust. (Well, the bag it was in was collecting dust...) I don't know why, but last night I was looking through all my FCEK magazines. I started out looking for scrap yarn knitting projects. (I was being bad, because I probably would have started a new project if I found something I liked!) Well then I started looking for baby sweaters to make for my nephew to be. I remembered the little fishy sweater I made our son before he was born. (I never took a picture of it, it was pre-internet, pre-digital camera, and pre-blog days...) Well actually I
did
take a picture of it. I suppose I could get it put onto a disk someday.... Then I saw a tractor sweater I could make. Then I *remembered* the sweater I practically have half way done, but stopped because it was so frustrating. Well I dug it out and sat there and ripped out row after row. I tried looking for a fluffy white yarn I could substitute from my stash. (I didn't find anything...) Then I decided to just double the yarn I have been using. This is the result. I think it looks a lot better. It is a *little* bit pulling in on the right side, but I am okay with it. It is a LOT better than the way it was. I hope the rest will turn out okay. This is not the best picture; but you can still kind of tell, no? And, I didn't *technically* cheat on my WIP pile thing I have been trying to get a handle on. This IS an old WIP, in fact, one of THE oldest. So no guilt there. Yay! I guess it definitely won't fit our youngest son (since he is in a 5/6 now!!) But it will definitely fit my nephew, who is not even born yet. :P (That is, if I finish it... which, I definitely think I will, now that I am doing it a lot better...)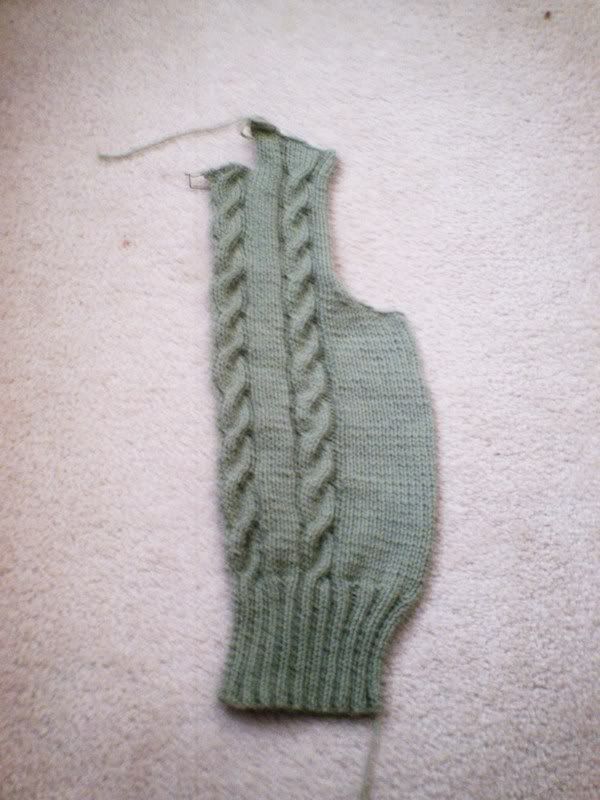 I have been working on another WIP, too. The Central Park Hoodie. I finished the left front!! Yay!! I typed in Central Park Hoodie at Ravelry and :0!!! There was over a thousand of them. (That motivated me to get mine out and work on it...)
Sorry about the bad picture. I am not in the mood to fix it though.... (sorry.) I just need a better camera.
And, I.... started the right front!: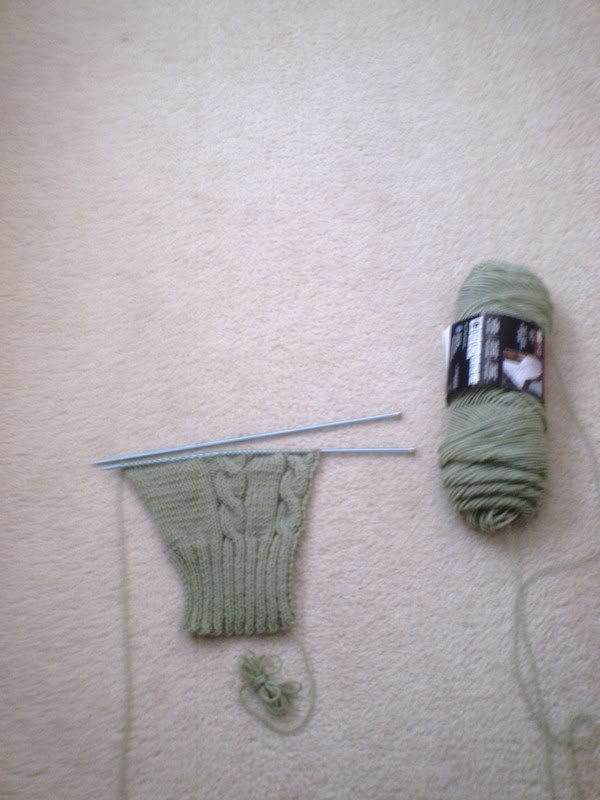 If I keep on working on it it will be done soon. I hope it will fit. I have been reading through the posts at Ravelry, and noticed that a few people have said this pattern runs small. And, I am making the size that will just fit me. So.... we will see.
I have also been on a quest to find the knitted version of the Baby Hexagon sweater. Well... (I should have known!) Elizabeth Zimmerman created the Baby Surprise Sweater in 1968. Someone posted about it in my thread at Crochetville. I asked her for more information and she posted
this
!! I thought at first that it was the pattern for it, but it's not... But, if you go all the way to the end of the page, it does tell you where to find the pattern. That sent me on another quest to find it. I went to ebay and found one of the Knitter's magazines it is in. And a few of the books, but there was already bidding on them.... Soooo.... I bought a 'Buy It Now' one. (The Opinionated Knitter.) I thought I would rather have the book than just a magazine... Well I also found a link (on Ravelry) where you can buy just the
sweater pattern
from Schoolhouse Press. (Which, I did. But, I still wanted the book, too.) The Baby Surprise Sweater (on that page I linked to) is 1B. It came in the mail today. (I SO badly want to start one, but... I am being good.) Really, I actually don't want to start one right now. I am getting too much things going on, and it's really starting to get to me. So I want to finish them, first. One thing I noticed was, I paid $2.50 for shipping, and on the envelope it said $0.42? What's up with that? It was just like two pieces of paper. If I was to mail that myself, it would only cost one stamp. Hmmmm. Oh well. Anyway, back to the Crochetville thread.... Someone else also posted (in a different thread, that I found-- I don't know how...) a
similar knitted sweater
(not exactly the same, but somewhat similar) pattern online, too. Well stay tuned for some FO's soon, hopefully!