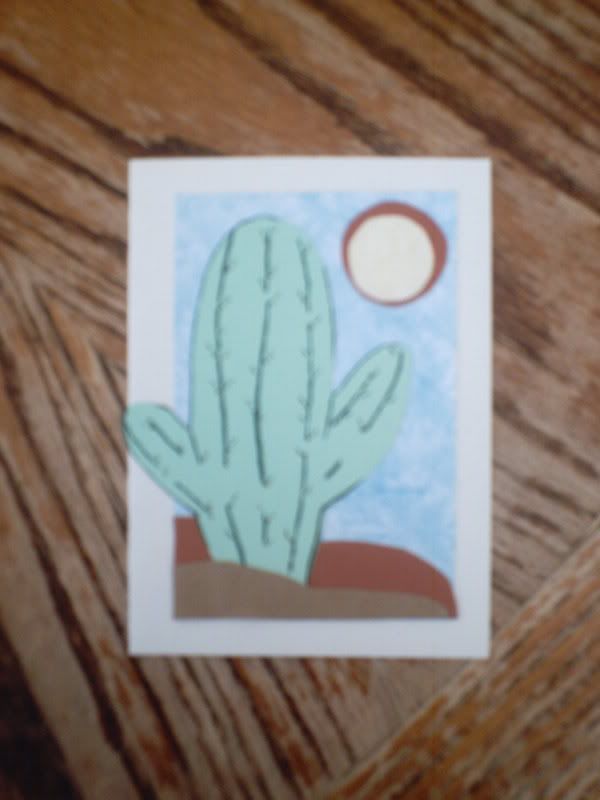 Paper stuff. My other big hobby.... When I get in the mood. I have been making cards. I got in the mood the other day, (actually this is the second card I did, the first one is below...) Me and my five year old make cards together. (Mostly, I "help" him, and then I finish mine when he is gone from the table...) He loves to do it. I think I've opened up a can of worms, though. Now he wants to make cards every day. And all of my cards are gone.... I'll have to get some more. Otherwise, it's a folded up piece of printer paper for him. (Which I would rather he use, anyway.) I should have taken some pictures of his cards. One is in an envelope, to be sent... Long story.... I could have sent it by now, but he stamped all over the front of the envelope (I told him not to, but.... he's only five...) The other one he made is a cactus (blue :P) one, like mine. :D Oh, I got the idea to make this one from a book from the library, Simply Beautiful Greeting Cards, by Heidi Boyd..
Here is my lame attempt at a lighthouse greeting card. I don't think this one is quite done yet. I want to do more to it, but don't know what.... I don't know why these pictures are so blurry again. They weren't, in my camera.... Grrr. This is the only lighthouse stamp I own. I got it when we went up north in Michigan, at a little drug store, I think. I remember being surprised to see a stamp there. Anyway. It's the Round Island Lighthouse. You can see it on route the ferry to Mackinac Island. I found
this site
about the Round Island Lighthouse~ which is very informative, I have it in my favorites. :P I have liked lighthouses forever. Just get more interested in them off and on... Lately as you can see, is an "on" time... :D I just finished crocheting one of my
lighthouse bookmarks
. I looked at a bunch of lighthouse pictures, and revised my pattern a little. I will post a picture and revised instructions on my pattern blog after I block and take a good picture of the bookmark. This is only the second one I have ever made of these. Hmm. Anyway, while I was looking at lighthouse pictures, I added a few links to the bookmark pattern page. Lighthouses that look somewhat like my bookmark. ? (kind of?)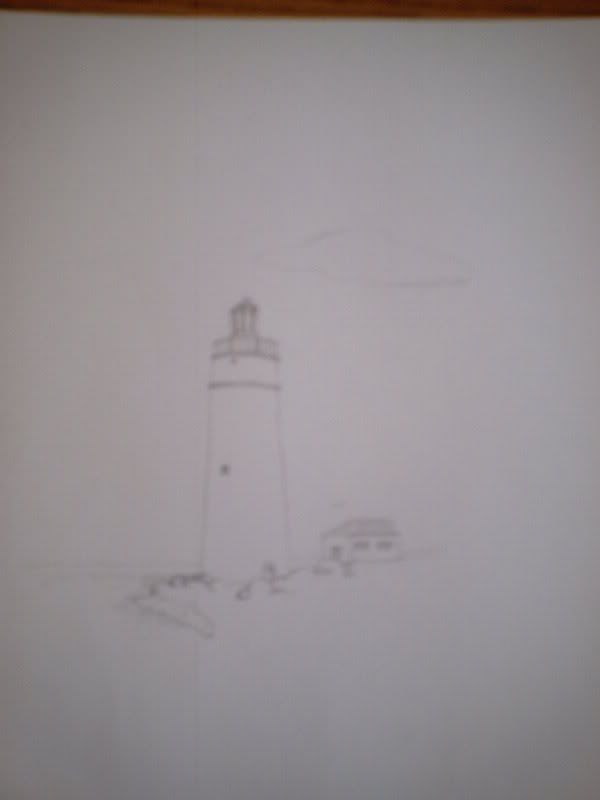 And this is a very bad picture of (a very bad drawing.... :P) I drew a lighthouse. (Insert blushing embarrassed smiley here....) I thought I would post it, anyway. Maybe if you click on it you can see it better. I found directions online on 'how to draw a lighthouse'. I have never been an artist, I will tell you right now. (In case you couldn't tell yourself...) But I got in the mood to draw! (Strange...) My brother is the artist in the family. I always *tried* to draw when I was younger, but gave up after a couple feeble attempts. Our middle son is the artist in our family. Our oldest can draw pretty good, too (if it is a Star Trek ship.... :P) The five year old likes to draw... time will tell.