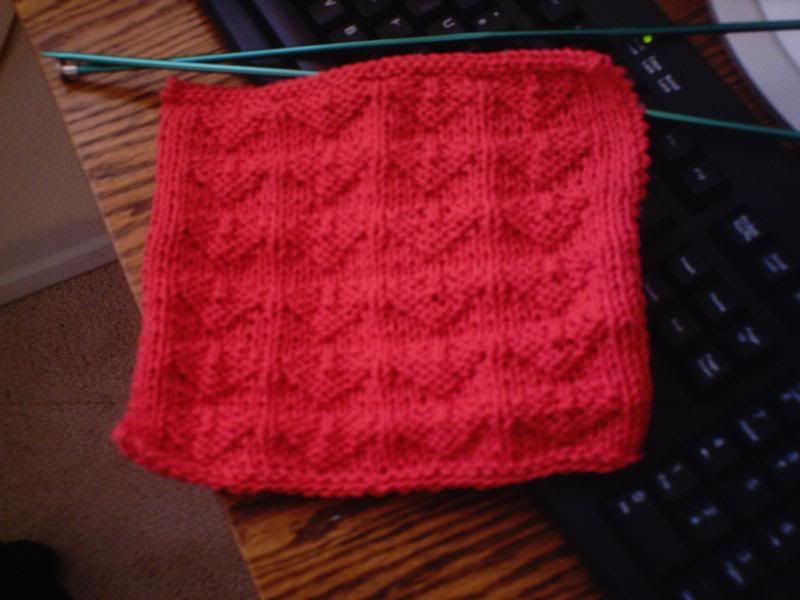 This is a dishcloth I finished for the February dishcloth KAL. Which I hosted this month. It wasn't all that hard. Just had to remember to do it every day. I can see how one person would get tired of doing it every month... It was a pattern I found at knitting pattern central.
Piece of my Heart.

Here are two of six afghan squares I made for someone at Crochetville. I have recieved word that she (finally) got them. So I can post them here. (Not that I think she even reads my blog...) Photobucket was down yesterday. So I couldn't post anything... I finished my dishcloth since then, though... so it worked out okay. ;) I got the pattern for the red and black squares somewhere online...
Here are blue ones.... I got the pattern for these from my '200 crochet blocks' book.... My squares NEVER turn out six inches like the book says... (They are all done in sport weight yarn, in the book; though....)
More red ones. (Also from the 200 blocks book.) I call these 'bubble wrap' squares. Our youngest son loves bubble wrap. One time we were at the post office, and he saw some red and blue bubble wrap. We got the red. (I needed it anyway.... I did let him have a little piece, though...) So these reminded me of the red bubble wrap... (Of course every time after that, he wanted to get some more, but.... that's a whole different story...)
I guess there is a CAL going on for my love bug, over at Ravelry. I STILL have not been able to get in!! :(( I think I figured out, that I forgot what my username and password is... (sigh) I thought I wrote it down somewhere, but I can't find it anywhere!! Waaaaa!
Chrisdfriend
has made a couple of my ami love bugs, though. Aren't they cute?! I never thought to make one in variegated yarn. But I have one done (almost) in 'Monet' now... It turned out really cute. I'll post a picture when it's done. (Still have two legs to do...)
Well I suppose I should get to work and start cleaning today.... (sigh) I hope everyone else has a great day!