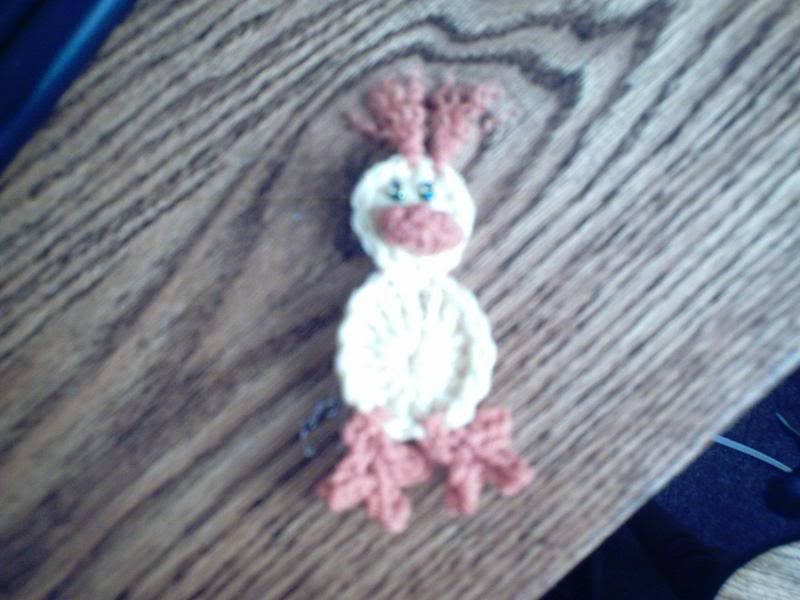 Oink, oink... zoo pals...Oh I think it is waaaay too early, and I need some more coffee. :P I don't know why I haven't been posting very much lately.... Well. I do. But. Anyway. This is one little thing I have finished lately. A
duck pin
. <-- That would be a link for the pattern, peeps. LOL Get it?!! Peeps? Duck? Or would that be a chicken? Oh man... I told you it is way too early. And I am not a morning person. Weird.... Maybe I actually got enough sleep last night, for once? Anyway after making all those yo-yo keychain critters it didn't take long for me to get
reaaaally
bored with them. And then I found this one online. So I made it. When my husbands' late great aunt was still alive, she used to make little bunny pins. I don't have the one she made me. It was
years
and years ago. I kinda wish I would have kept it. Or not lost it. Or whatever happened... I can't remember how she used to make them. It isn't like the one in the link, I know that. (As adorable as that one is!) Anyway.... I didn't have any of the little black seed beads or eyes for the duck so I improvised and used some green beads... It still kinda works.
What else? I have been working on squares for another comfortghan. I need to finish up the one I am making for the person I am making it for... I asked three people to help me. So far only one has. And we have both made four squares (I made six) to the other two peoples
none
. How hard is it to make one square?! Oh well. I'll make two more and finish it. I'll post a picture of it, too...
Wow it seemed like I had a lot to blog about; but I guess maybe it is just a lot going on in my brain this morning?... (if you couldn't tell...) :P Well have a nice day everyone.