Well this came last week. I have just been so busy, I haven't posted about it yet... This is my tea cozy swap package from ShawneeOR!! Isn't this the cutest tea cozy
ever
? I totally forgot about someone making a chicken/rooster cozy out of Cupcakes' Scalloped Tea Cozy pattern!! I had told Shawnee that my kitchen is roosters or apples. I just love this little tea cozy guy. He's sooo cute! (I forgot to pull his nose out, it was flapped under on the way out here...) Shawnee also sent some Stash tea. It is rooibos (one of my favs) and white tea. It's really good. I've never had it before, but I like it.
And look!! :0 She sent practically a whole kitchen set of towels, potholders, and stone coasters!! I
LOVE
the roosters!! Thank you so much, Shawnee! And chocolates, which were gone before I even got back home... :P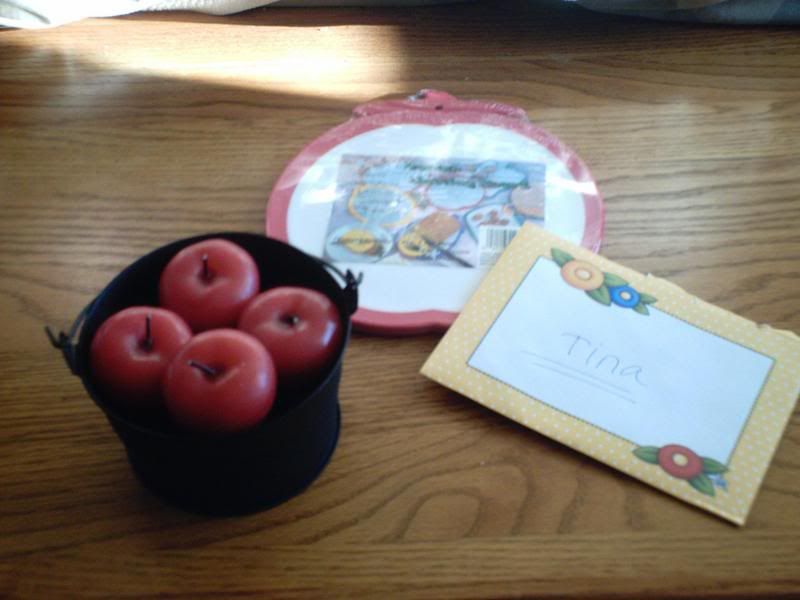 And last but definitely not least, the cutest little apple candles, inside a tin! (They smell so yummy~ we've already burned one.) And, an apple cutting board! It's too cute to cut things on. And the cutest Mary Englebreit card! I love everything, Shawnee~ Thank you SO much! You were an awesome swap partner.