I am so sorry it took me so long to post this, Kelle! I don't know what has been wrong with me, other than exhausted... I recieved my reveal package a while ago. I just love everything Kelle sent!! I cannot believe it, still, but she crocheted me a shrug. And it fits me perfectly!! (Not very good quality photos here, sorry...) No one has ever made me a sweater before in my life (myself included) lol. I love it so much.
Again, not good quality pictures (at all!), but.... You can *kind* of see what else she sent me. A big. Huge skein of JoAnn's Rainbow Boucle--in shades of green!! Woo Hoo! I still have not figured out what I want to make with this delicious yarn. Or the two skeins of Caron Bliss, for that matter! (They are soo soft and yummy!) Kelle also sent a pattern leaflet for a short sleeved crocheted cardigan, which I also love! And a little booklet of baby afghans, which I did not have and they are all so cute! (I do need to make a baby afghan soon, too... what perfect timing!) A package of the cutest teddy bear stationery, a box of my favorite Zinger teas, Wild Berry and Red Zinger (a little sample packet). And, you can't even see them in the picture (because they're not there LOL!) but Kelle also sent a bunch of little chocolate candy bars, and two big 'Coffee Crisp' candy bars for my husband. He doesn't like coffee flavored anything (unless it's actually coffee)-- But I do!!! Yummy! The kids loved the chocolates. And, Kelle sent each of the kids something, too! She is so cool. Our fifteen year old, she sent the coolest guitar book!! He
loves
it. I still haven't looked through it myself yet, but one day (when I get some free time ha ha...) :p Our ten year old she sent a coloring book and stickers. And our four year old she sent a coloring book and
the
coolest! Spiderman socks!! You rock, Aunt Kelle!!! And some Wild & Weird trading cards with animals on them (which by the way, they won the code, and sent in the card for something? A packet of free stuff!! So we are still getting stuff from you, Kelle!) :D Thanks so much again for thinking of our kids (and my hubby, too.)
Some rip-off leaflets, which I have never seen any of yet. I love the pillow ones and the knitted bag. The baby pillows are adorable, don't you think?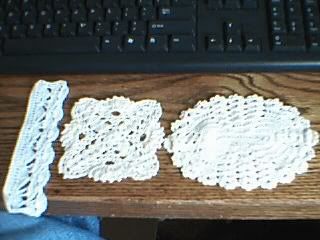 And last but definitely not least, Kelle crocheted all these threadies for me!! She said it was her very first doily ever-- it's gorgeous! And I love little doilies, too. The little square coaster (I think I am going to use it as another little doily, though.) And the lace bookmark. I have already used this in one book that I read. I just love everything, and I feel
sooo
spoiled!!... Thank you again, Kelle!! I am still in awe of it all, and will cherish these things always. I hope we can keep in touch for a long time, too.