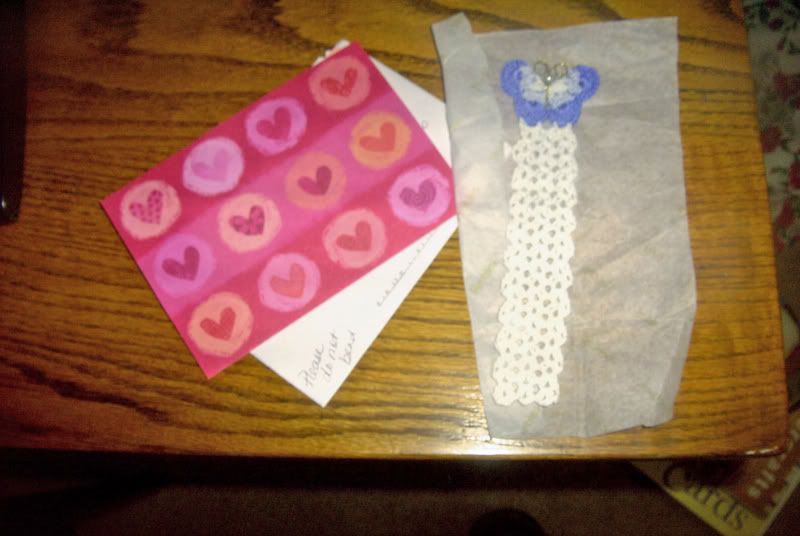 And complete surprises, too. First, I got this Valentines' Day card and beautiful butterfly bookmark in the mail as an RAOK from Cordelia (at Crochetville)! It is so pretty, and it is ironic because I was just looking through my drawer the other day, thinking 'I know I must have a crocheted bookmark in here somewhere. I was almost positive I had a purple one someone else made me... (I must be losing my mind.) So now I have this one too. Thank you, Cordelia!! :)
Then, not too long after, I got this in the mail from
Mimi
. It came as a total and most pleasant surprise!! Thank you so much, Mimi!! This is the shrug pattern that I just posted about in my last post. So even though I already had the pattern on my computer, I now have it in writing, too!!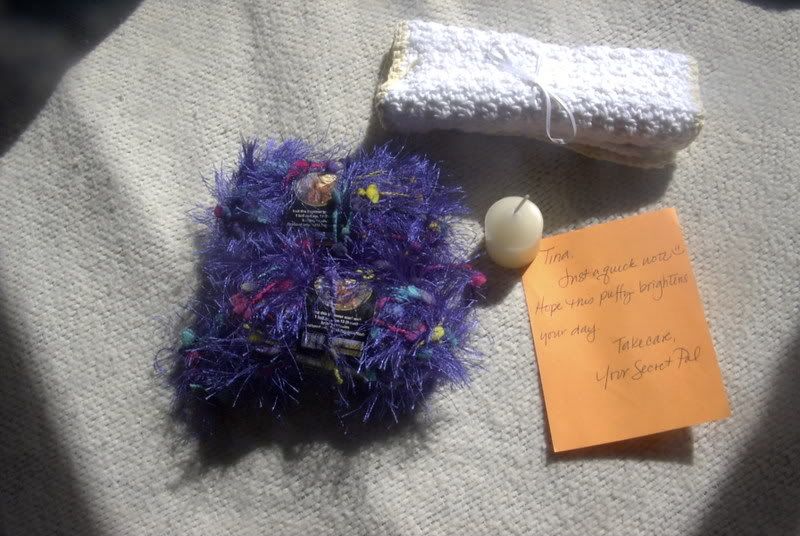 And, I got my first puffie in the mail from my Secret Pal!! She really threw me for a loop, because somehow (she must have inside info) ;) she put the address to the pal that
I
am secret to, as the return address. It really confused me. I thought I must be hallucinating or going crazy from this flu. But, no, it really was her, and I wasn't hallucinating. I may be going crazy, though. LOL. :D Thank you so much, secret pal!!
And here are the dishcloths, unfolded. I tried to lighten this picture, but it only came out even darker.... :( They are a really lovely pale yellow and white. Too pretty to wash grimy greasy dishes with!! :0
And, for lack of things to blog about (or should I say, since I can't blog about what I am crocheting, since it's all for my secret pal, and I would give myself away...) :) Here is a shawl I started like two years ago. It's the
evening shawl
. I always get a pop-up from this site, so be warned. :/ I had put this away for soooo long. I think mostly because it's taking forever, and I don't really like working with Red Heart Symphony. It is soft, and fuzzy. But it's a bear to frog. And kinda hard to see what you are doing. Nothing like fun fur, though...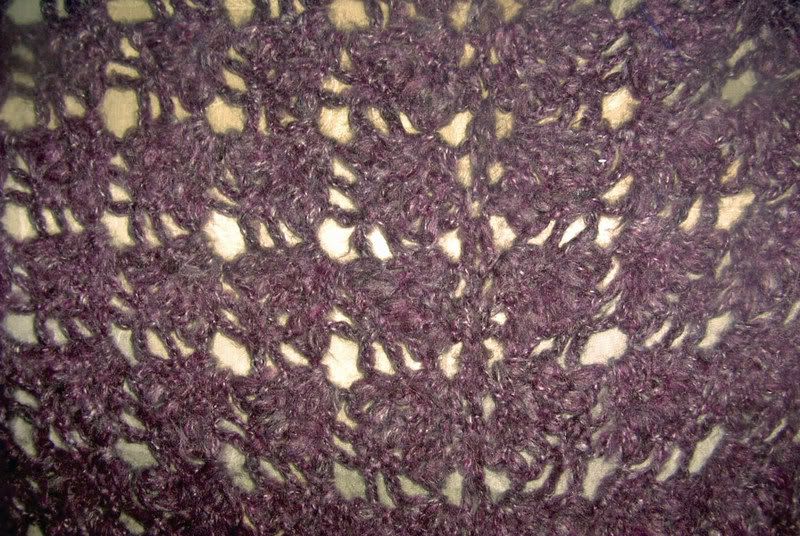 A kind of close-up. Well KnicKnac had posted about the
evening shawl she just finished
at Crochetville. And so I dug mine out and started working on it again yesterday.... I'm not as far along on it as I thought. I don't even really know why I started a shawl, since I'm not really a *shawl* wearing person... But, I could be. :D