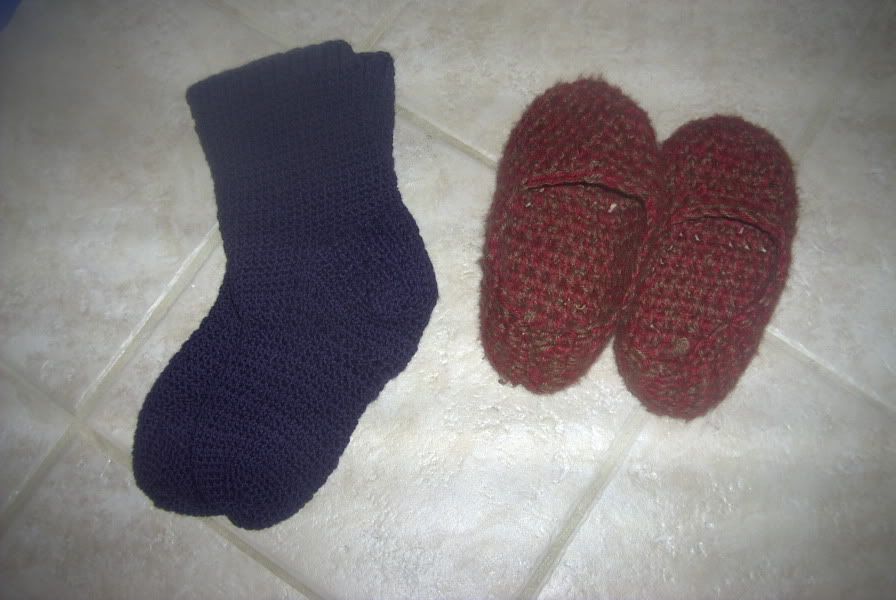 Today was an awesome mail day! I got both my reveal package and my sock/slipper swap package, too! I don't have any batteries in my camera, or I could post pictures. As soon as I get batteries, I will. Everything is wonderful! My Secret Pal is Cheryl, aka 'Diamond'. And, she sent me a 'diamond' paperweight, in an elegant red velvet drawstring pouch. It's just lovely! She also sent two rose earmuffs, with a sample tube of Chanel No 5! in the middle of each rose!!! I love
that perfume! My husband doesn't even get me roses and perfume, I felt so pampered. ;) A hydrangea magnetic notepad, a pelican knick knack, very cute. A magnet that says 'You Don't Frighten Me, I Have Teenagers' LOL! (I am beginning to understand what that means, believe me!) A package of dolphin buttons! More crochet leaflets, and a fun fur leaflet, too. With scarves and mittens and hats. I haven't made any hats or mittens with fun fur yet. And a lovely notecard from Cheryl, too. She has been the greatest swap partner. And even with a hurricane damaging her house; she still sent me a package with everything going on in her life. I was so fortunate to have such a good Secret Pal, and hopefully we will be able to stay in touch in the future.
And, my sock/slipper swap partner is great, too! Joanne sent me a pair of socks and a pair of slippers!! The slippers are so thick and comfy, I didn't want to take them off today! They were made with a burgundy/brown mix yarn. I love those colors together! And the socks are awesome!! They are navy blue, and have a one inch ribbed cuff. I remember her saying in the beginning of the swap that she wasn't a great crocheter, but they are awesome! I must be a really bad crocheter, if she isn't all that great of a crocheter!! Because the socks are just perfect. I want to find out what pattern she used, I want to make some myself.
If all swaps went this well I would join every swap! I know some people were very disappointed with their swap partners. Not sending anything, not responding to things sent. I feel so bad for them. Especially when they were good to their swap partner! I don't think I am going to join any more swaps for a while, just because we are moving and the next few months will be hectic. And then we will have to move yet again. I will do the RAOK thing, though. In fact, I just sent one out two days ago, and I have a box ready to go for someone else, too. In between packing, cleaning, cooking.... and all the regular stuff...