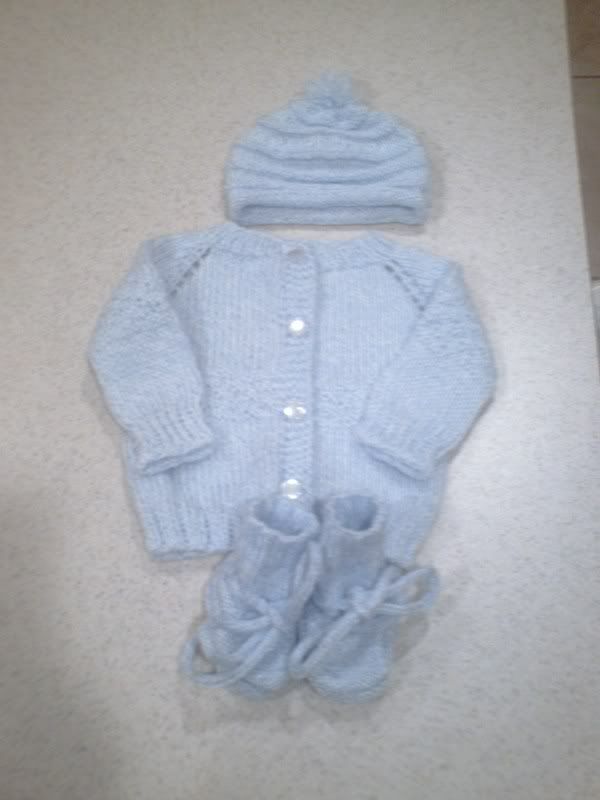 Yay.... This is a baby set for my (not yet born) nephew, Corbin. I have been working on this off and on and it is FINALLY, completely, absolutely, finished. The baby shower(s) were this weekend. But, seeing as how they are over 2,000 miles away, I guess I didn't go. :( So I had to post one of the things I am going to send. The other sweater set,
here
. And a few odds and ends things, I have a couple cute T-Shirts I want to get and I will see if there is anything still on their gift registry list. Plus, we are going in on a camcorder with my other sister and my Mom. And that is two things on my list I am totally done with (both sweater sets) and can cross off. :)
I cheated and made these.
Holly's Pink Bunny Slippers
. They have been done for a while, I just now took a picture of them. I will send them to PR this fall, hopefully with a few more pairs. If it cools off here I might get back into slipper making mode. I shouldn't, though; seeing as how I need to finish up all my WIPs I already have going..... I should get them all out and pick which one I want to finish. I'm sure there is enough to choose from.... (Insert rolling eyes winking smiley here....) Anyway. That's all for now. Hope everyone had a good weekend...