Woops. I forgot to change the photo size here... oh well I'll just go with it. This is a flower tawashi that I have recently finished. It is Mimi's pattern, and can be found at her
Ravelry Pattern Store
. I love this little scrubby. It is too pretty to use to scrub greasy grimy dishes with, though!! Maybe I will have to give it away as a gift... (Then I won't see it being used for this... ;P) The roosters are actually salt and pepper shakers I got at Ross for $1.48. I wanted them anyway since my kitchen is roosters and apples. Then it was a big bonus that they are so cheap!! I won't be using them as salt and pepper shakers, though. With three boys in the house they are bound to get broken. So they will be decorations. :)
And, here we have all but one of the toys for KristieMN's toy drive this year. Three of
yarncat's turtles
,
KristieMN's sea monster
I tested a while back. One of my
love bugs
. One 'Geometric Baby' which is not yet finished. (But almost.) And three Happy Meal toys from our trip to Michigan. I get a Happy Meal since it is about half the calories (or less) than say a cheeseburger meal or a Big Mac.... I try not to eat at McDonald's at all, but if we are on the road like that it is kinda hard. And even harder to eat a salad while you are driving, so.... Happy Meal it is. Anyway. Speaking of food.... I have been craving bread BIG time lately. What's up with that? I haven't been eating bread for a long time. LONG time. (Long story, too, why I haven't been eating bread.... basically, because it makes my stomach hurt [wheat, I think]) So I don't know why all of a sudden I am craving it so bad. Maybe cuz I was eating it while we were in Michigan. But, I don't just want the junky sliced bread you can buy in the store. I want crusty French bread with butter. YUM. Or cheesy flatbread. Yum yum..... :P
In other news.... My husband's job was shut down today. :0 (I had to edit this and say: The job my husband works on-- it's not *his* job. It was bugging me... lol) Sooooo.... I (we) don't know what is going to happen with that. Yikes. On the one hand, I am kind of hoping he will get transferred somewhere. I HATE it here. It has been 7 months and I still hate it. I don't think I am going to all of a sudden start liking it. Anyway. I doubt I will be that lucky. He will probably just go to a different company (again) and a different job.... I thought now was as good a time as ever to suggest that he get a transfer somewhere though. Like Michigan. Or Tennessee.... (Closer to my family...) I know Michigan is THE worst place to be right now for the economy. (I would also most definitely have to go back to work again, too.) But. :( We will see. Just trying not to think about it too much though. If he gets another job here we will be stuck here even longer. I don't know.... live where you hate it, and be financially okay. Or live where you WANT to live, and struggle. It is a no good situation either way...
My husband took our five year old to see WallE. (Hopefully that's what they'll see...) A couple weeks ago the two older kids went with their Uncle (and Aunt) to see the Dark Knight (batman). We *thought* the five year old had chicken pox. (Turns out after a couple weeks and phone call to the doctor explaining every single detail.... it is probably 'Swimmer's Itch'. No thanks to the doctor[not even the doctor, I talked with a nurse] for figuring THAT out, we figured it out on our own....) Anyway so he *couldn't* go to see the movie (I heard later it was WAY violent, anyway so maybe it worked out better that way.) But my husband said when we get back he would take him (JUST him) to see a movie all by himself. :P Well have a good day everyone. TTYS :)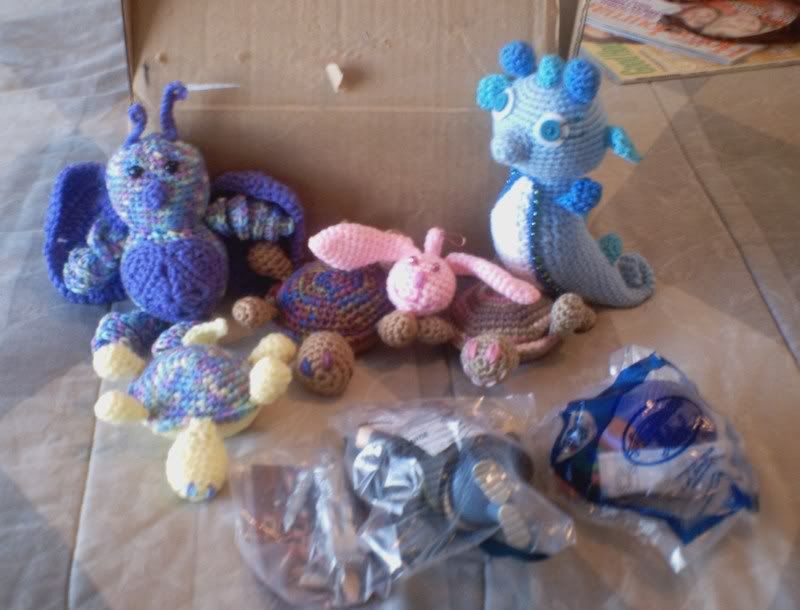 Hmmmm..... the picture is down here. Sorry bout that! lol!