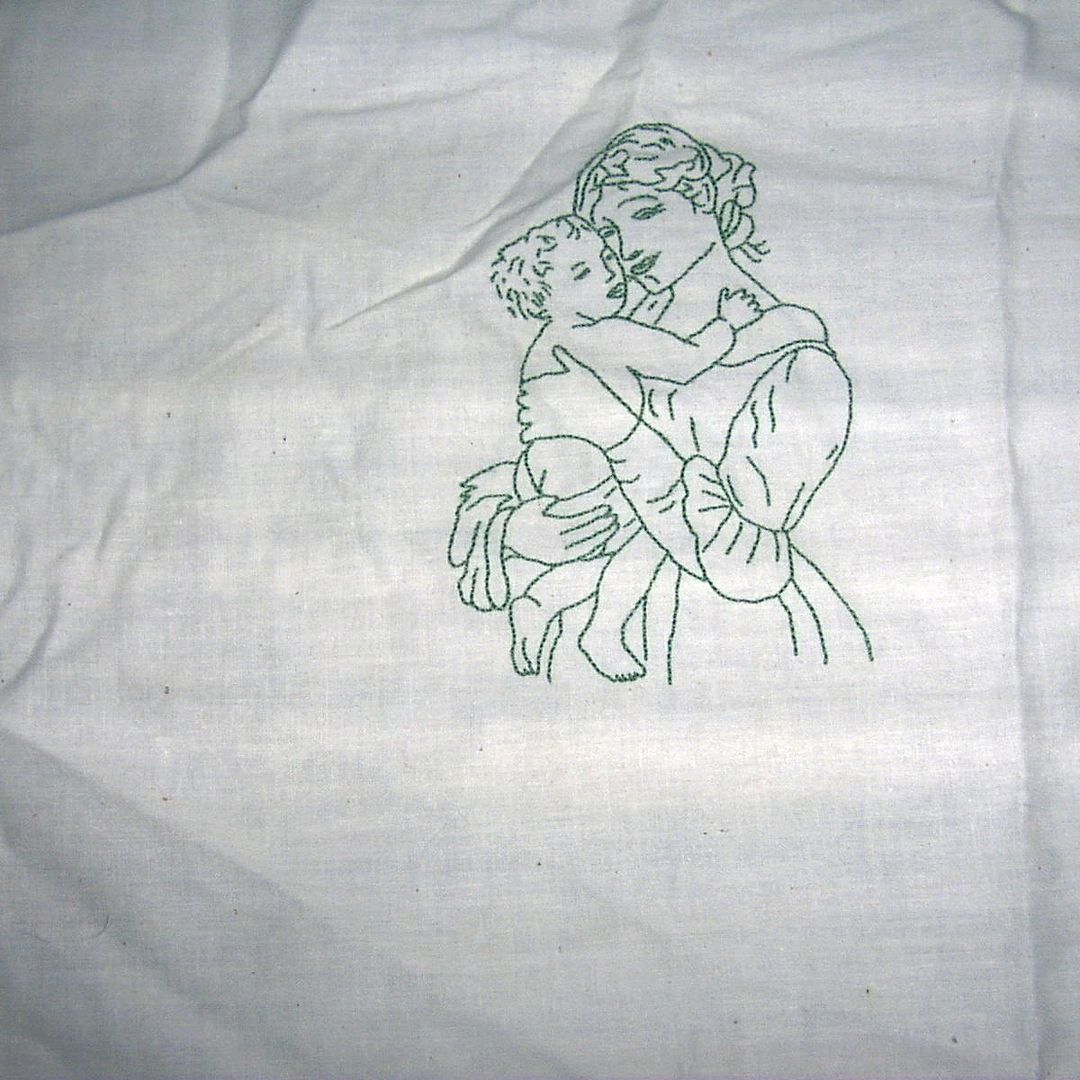 Well they are treasures to me, anyway. :) I'd forgotten I did so many of these, so far. This is what is called 'Redwork', for those who are wondering 'What is it?'. Of course, redword doesn't necessarily have to be 'red'. It can be blue, or green, or black... any color, really. As long as it shows up. But traditionally, redwork was red. Because the Turkey Red floss was the only color that didn't bleed. I don't know exactly what it is about redwork that is so appealing to me, but I just love it! Maybe it is taking a piece of fabric and tracing a simple picture and making something so beautiful out of it. (For so little money, too!) You don't need a fancy expensive book to do this. You can trace your childs' artwork, you can trace a simple design out of a magazine, or postcard.. whatever. So these are some squares I have done (and found in my big Rubbermaid Tote brought back from the storage shed in Michigan...) 'Mother and Child', above, done in sage green. I love this one. It came from either a Quiltworks or Miniature Quilt magazine. (The only quilt magazines I have, so it had to be one of the two.)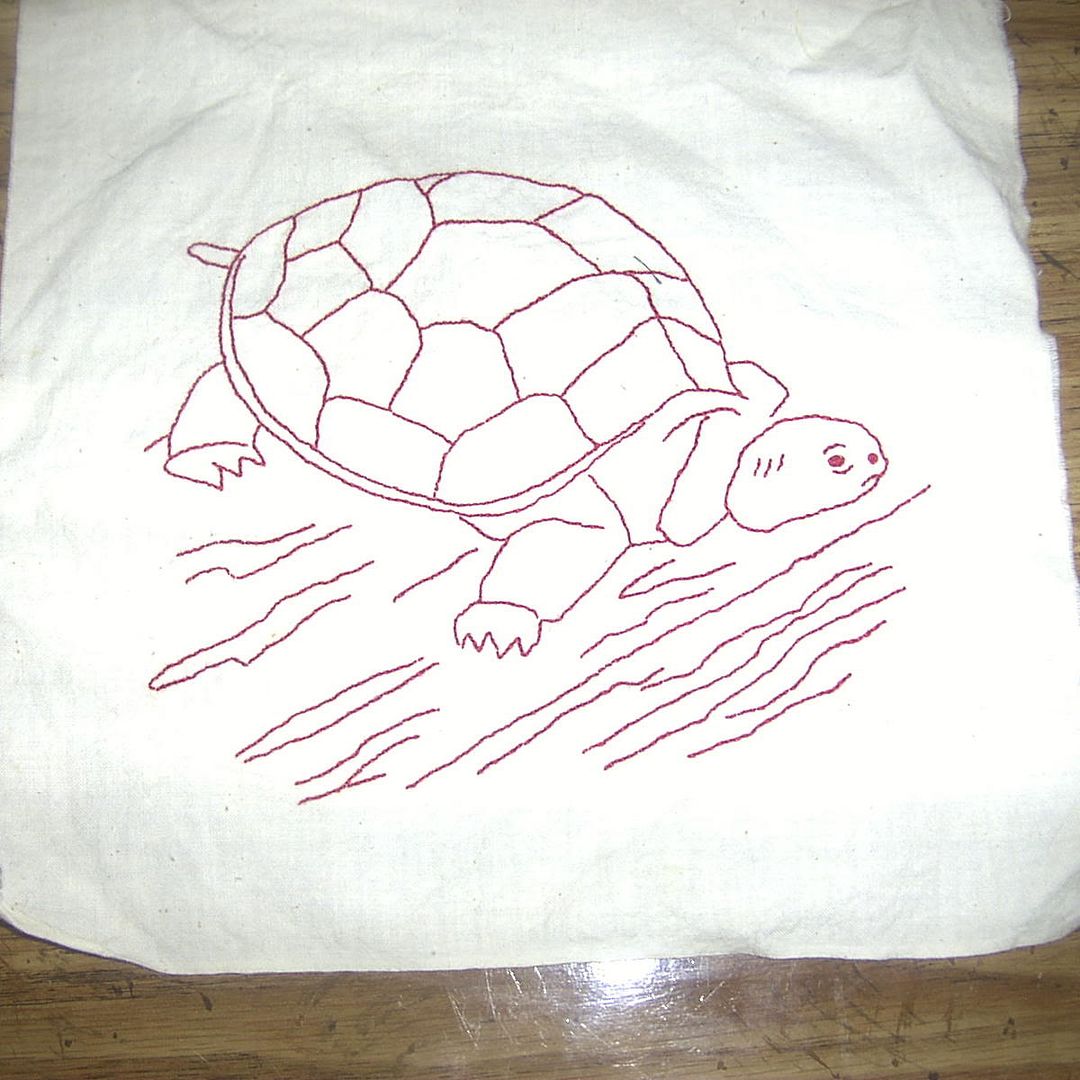 This sea turtle I traced from a coloring book page of my kids. (With some of it colored.) It turned out pretty well, I think! I was thinking about my Grandma when I made this one. She loves and collects turtles.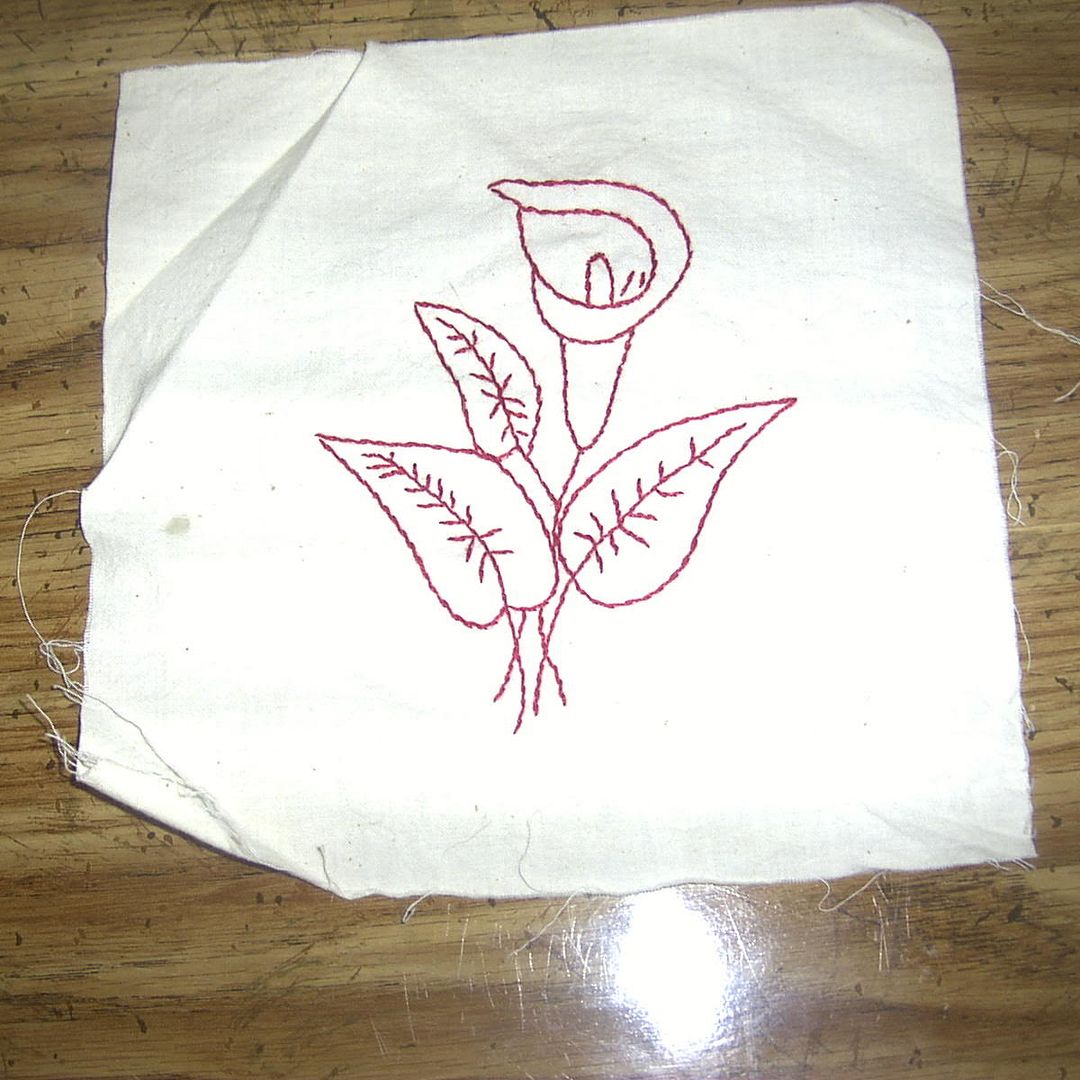 "Calla Lily', from 'Learn to do Redwork' book by American School of Needlework. In fact I think the rest of these are also from this book. (It has 77 re-creations of antique blocks, plus instructions to make four quilts, I think.)
A blue rooster (I was going to make something with this to hang in my kitchen, but I no longer want to do the Delft Blue kitchen, so I don't know what to do with him...)
A bird in a nest.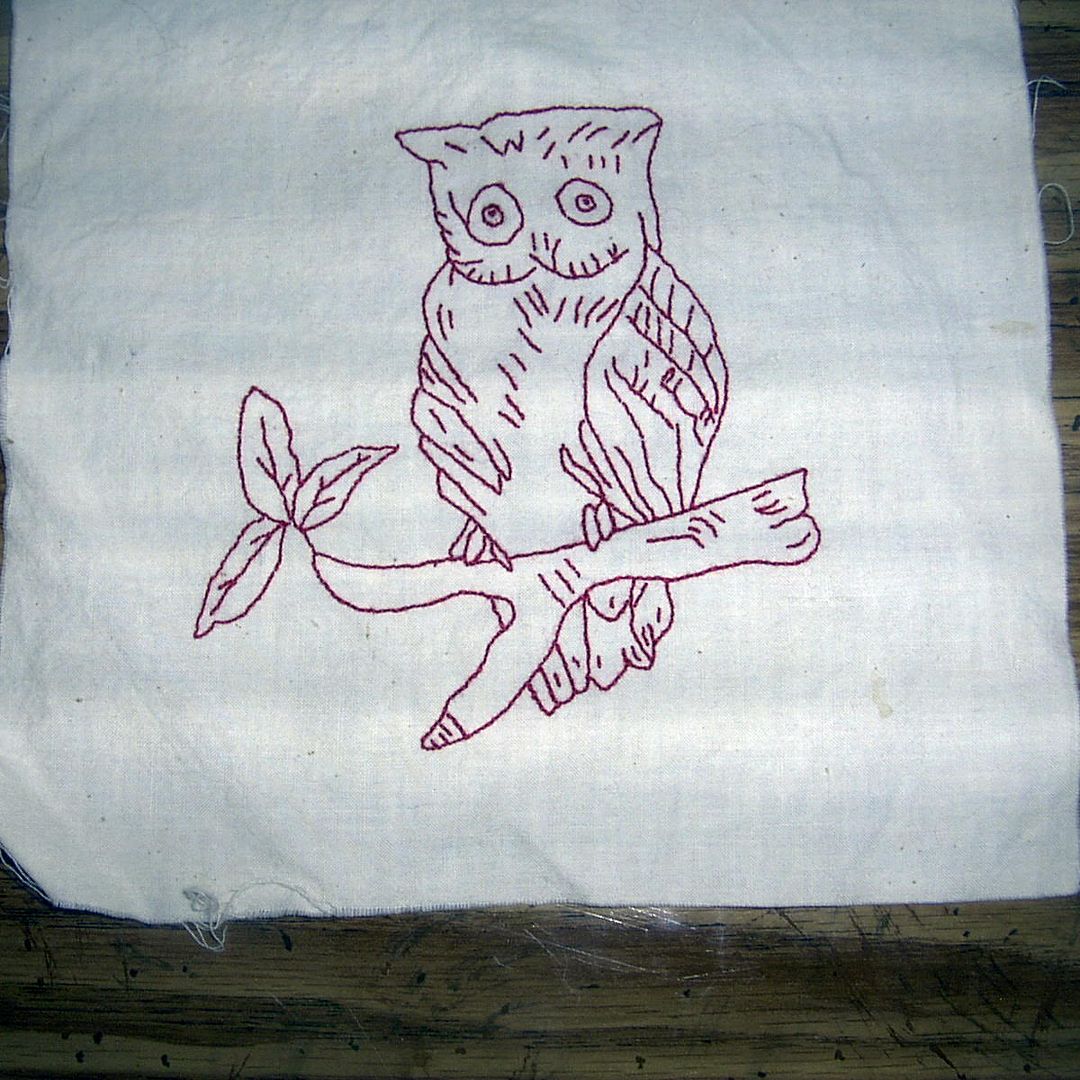 And, aHoot Owl on a tree branch. I KNOW I had a cherry one I was working on, too. I can't find it, or my hoop to do the embroidery with, either. (Wherever they both are, it is probably together... the cherries are probably in the hoop somewhere.) Oh well. I have outlined another square already, that is a tea pot, I was all ready to work on it, and that was when I realized I didn't know where my hoop is... But, I found the tea pot design online. I'll see if I can find it to put the link if anyone is interested. Meanwhile I will post this since it might be a while before I can remember where I saw it... Well I am still looking,but here is a few free patterns I found at
Quilt and Sew
, by Googling... Some from
Pattern Bee
, it says they have a new free redwork pattern every month. (Supposed to be vintage, too.) Still looking for those teapots though... I found it! YAY!! It's from a
Ladies in Red
site, they have about four or five PAGES of redwork designs!! This time I'll put it in my toolbar so I don't lose it... :p