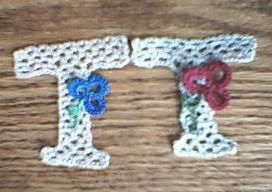 I was bored with my crocheting. I made myself a little rule, 'You cannot start any new projects until you finish the ones you already have started'... pshh. I guess that flew out the window... :D I had been wanting to make/copy one of these 'T's that Mimi sent me a while ago, for a long time now... So, last night I thought 'Well tonight I'll do one'. Then I got to wanting to do all the letters, so I looked at Crochetville to see what the name of the book is, that Mimi used. It is
Pretty Lace by Yoko Suzuki.
I bid on one at eBay. So far I am the highest bidder. :p Anyway, my "T" is not blocked yet. And, I don't know what I will *do* with it, but.... I do have a couple friends whose names begin with T.