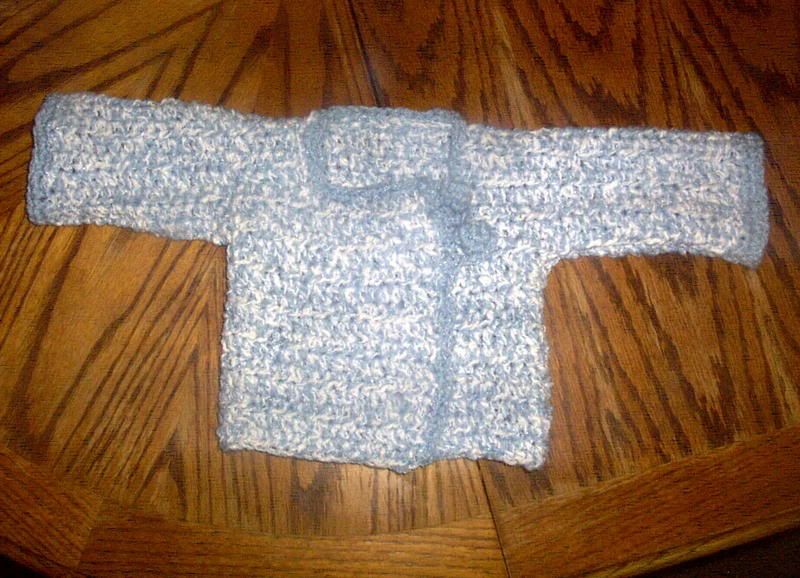 Baby sweaters. :) This one is the
'Baby It's Cold Outside!
' sweater, from Crochet Me. It worked up SOOO fast! I still can't believe how fast it was. I finished it mostly yesterday (and, I started yesterday at about 1 in the afternoon!) Between going to pick up kids at two different schools, and making dinner... Then this morning all I had left was the sewing up the seams, borders, and the buttons. I want to make
this hat
to go with it. If I can figure out how to size it for a six month old. I saw
KnicKnacs
', and it must have been what I needed to finally make one. I've had the pattern printed out and been wanting to forever. This one will go to my brother and his wife for their baby boy who's due in November. (I will probably make more stuff for him, too, so stay tuned for that...) :) It's supposed to be sized for a six months, but I just measured it and it is 1/2 inch smaller. So maybe it's technically a three month size... I've actually already started another one of these, in pink and white, for my (great) niece.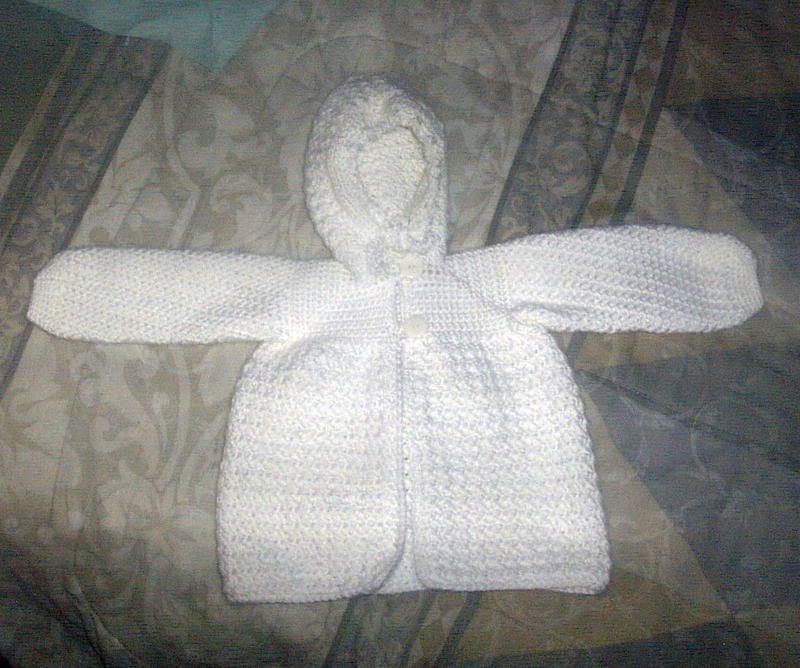 Here is the
Cuddle Me Hooded Baby Sweater
I've also finished. This one is going to Pine Ridge. I used a G hook I think instead of an I. The I seemed too loose for me. So I'm not sure what size this is, either. I'm guessing a 6-12 months, but I don't know. The size it's supposed to work up to is a 12 months, but mine measured 11 inches across the chest. I don't have the pattern right here in front of me, so I don't know.. Well if you're looking for baby sweaters, there's two links for ya, anyway. ;) Have a Nice Day everyone! Thanks for stopping by. :)