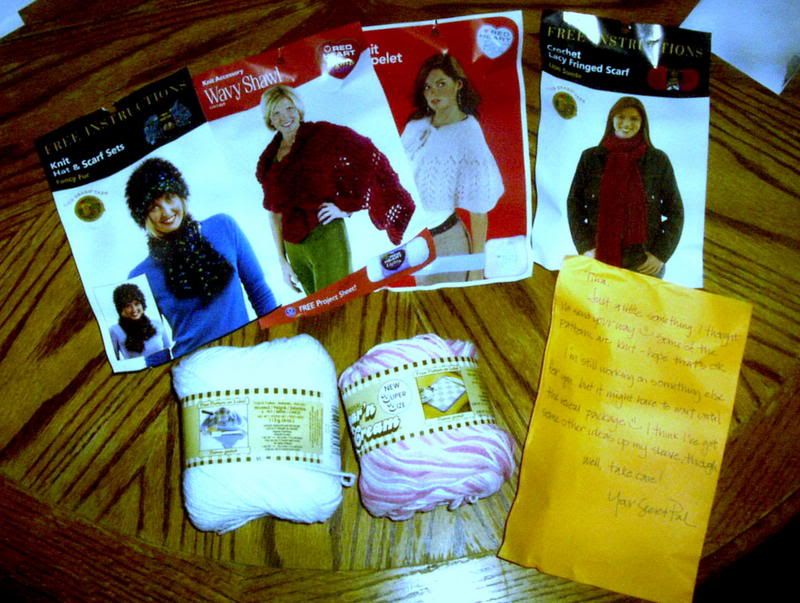 This is the latest puffy I recieved in the mail from my secret pal. Dishcloth cotton! Yay!!! And, in the variegated pink I have been wanting for so long! And, I don't have any white. I have been thinking I should make dishcloths white, that way you can bleach them... She also sent four of the pull-off patterns. I really like the one on the very right and have been eyeing it for some time. Thank you secret pal!!
Oh, wait, there's more!!! This is a previous puffy she sent me, but my camera's batteries were kaput. Some vellum sayings, a stamp, and three handmade crocheted cards she made me to use!! And she also sent me one as a card, too. I love the crocheted cards. I will use them someday soon. I just hope I don't ruin them!! I should try to find the one she made me, to show you how she added grass and a stem. By the way, I don't know if I posted about this yet... If you are into card making, here is a
really nice site
I found browsing the internet, one day; with ideas to make some really pretty cards. I love this
dragonfly card
. I wasn't able to find a stamp that said 'spring' in Japanese, but I did find one that says 'love'. So I might use that one. I need to find some little dragonflies I could use, too...